| | |
| --- | --- |
| Estimated reading time: 1 min. | Santiago Gaudio |
In order to reach lake Quillén you must leave Aluminé towards the south. Take Provincial Route 23 and continue for 50 kilometers. Midway at Paraje Rahue you will find a Tourism Office and the Hostería Quillén.
Continuing towards the lake you will follow Provincial Route 46 and you will be following the Quillén River, which is born in the lake. This river is one of the biggest attractive for fly-fishing.

This area is full of estancias, cattle rearing being its main activity. Agroturism is in full growth and estancias also provide hunting services.

As you follow the road you will encounter Mapuche communities such as the Currumil who live on agricultural products. Here there is a school and a sanitary post.

Very soon you will be entering the northern part of the Lanín National Park. You will notice small settlements and abundant vegetation composed of native species such as ñires, araucarias, coihues, lengas, cañas colihue, and a variety of flowers.
River Quillén and other rivers are rich in trout, making it a very interesting site to anglers.

As you enter the Lanín National Park you will see a Gendarmerie Post and the ranger's lodge. They will provide you with additional information, if needed. From this point you will be seeing Lake Quillén. This lake has a surface of 24 square kilometers. Camping is recommended on its northern waterfront where there are extended boulder shores. The Lanín Volcano (3376 meters above sea level) can be seen between Mounts Ponom and Caballatas.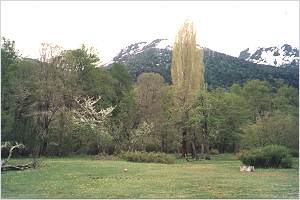 The camping areas we recommend are two. The first is located at 1 kilometer from the ranger's lodge. It has tables, benches and toilette facilities. And the other is at 5 kilometers away. This last one is called "Camping Pudu Pudu" and the road to reach it is quite tortuous. We recommend trekking and picnicking the area or riding to Lake Hui Hui or to the Malalco Valley. The trails develop among the Patagonic Andean forest with its characteristic foliage.

If you happen to bring your own boat, we recommend navigating lake Quillén and following the Malalco River. Motor navigation is permitted although trolling is not allowed. The only fishing modalities permitted are fly casting and spinning. Don't forget to carry the corresponding fishing permit.

As you return to Provincial Route 46 and after going across the Mapuche Community Currumil you will encounter a general store and public telephone.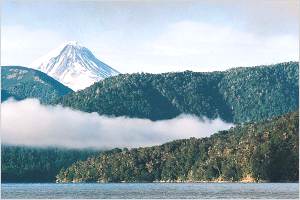 Rates and fees must be requested from each operator.
Interpatagonia does not provide this kind of information.