| | | |
| --- | --- | --- |
| Estimated reading time: 2 min. | InterPatagonia.com | InterPatagonia.com |
In the little village of San Antonio Este you can easily find the little market "Mirador" with an old private museum owned by Mr. Constantino Vicci, who has an important private collection of elements found in this part of Patagonia during more than 30 years.
Guided by Mr. Vicci or by his son-in-law Miguel Sánchez, who has been for years Mr. Vicci´s partner in his archaeological and paleontological expeditions, you can admire hundreds of arrow heads, glass beads and other aboriginal elements meticulously classified and exhibited in big panels.

There is also an important collection of fossil animals and plants such as araucarias, piñons, figs, bulrush branches, shark teeth, etc.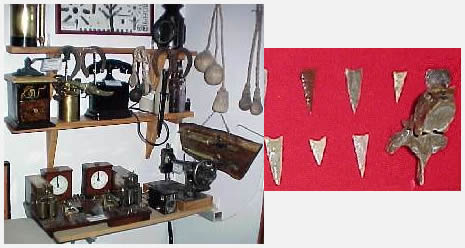 Conforming a singular ollection of historical elements, you can appreciate rests of weapons, bullets and diverse utensiles used by soldiers in Fort Avellaneda during the campaign to the wilderness by Julio A. Roca.

A remarkable detail is the exhibition of a pair of old human vertebrae, suposedly of soldiers, with arrow heads pierced in them, what conforms a hard testimony of the past disputes between two different cultures.

By the end of your visit to the museum, you will see a peculiar collection of domestic and manufacturing elements granted by old settlers to testify the incipient colonization of the area during the past centuries.
Rates and fees must be requested from each operator.
Interpatagonia does not provide this kind of information.