| | |
| --- | --- |
| Estimated reading time: 3 min. | Mónica Pons Santiago Gaudio |
Several Mapuche settlements lie on the way. They offer their handicrafts and show their lifestyle, which contributes an extra value to the outing.
The Mapuche words "Ruca Choroi" stand for "parrot house" and are the name of a lake located close to Aluminé. This is considered one of the most attractive wild spaces in the area due to its environment and quietness. Feeling enthusiast about this information we got at the tourist office, we resolved to pay a visit and enjoy a day in the open air.

During the journey, we stopped at two small lakes usually dwelled by flamingos, black-necked swans and several duck species. We took some photographs of the birds here and there.

After that, we came across Mapuche settlements at the places called Poi Pucón and Carri Lil. They consist in typical houses and animals scattered around. The Salazar and Aigo communities have lived at this place from the early twentieth century. They raise goats, sheep and poultry and sell woven items and handicrafts.

Religious practice

"Nguillatún is one of the ceremonies that has remained throughout the years and during which our families pray to Nguenechen for prosperity, rain and good pasture", said a lady from whom we bought a garment she herself had knitted out of sheep wool.

The same woman taught us how to cook the pine nut, edible fruit from the monkey-puzzle tree highly appreciated by the Mapuches. This is a staple they use to cook stew, empanadas and make flour by grinding the nut with stone mortars.

The communities have a primary school and a rural health center. Along with a third group located nearer the lake, this is considered one of the largest Mapuche groups in the Province of Neuquén. In the last few years, the youngest members have become integrated to the way of life in nearby cities. However, they have not lost their traditions.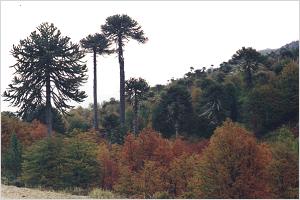 As we reached Lanín National Park, we observed a monkey-puzzle tree woodland area with a great deal of specimens. We headed for the park ranger station to learn a little bit more about the place and the activities available. We made ourselves comfortable in the sector furnished with tables, fire pits and toilets immersed in a very green thick vegetation that protected us from the wind. The monkey-puzzle trees co-exist with other native species such as lengas and ñires and a heavy rainfall regime throughout most of the year.

We got to the shores of Lake Ruca Choroi and had a rest on its narrow beach of thick sand. Spinning and fly-casting are allowed in its small surface and the use of engine boats is forbidden. We just devoted our time to beholding this eye-catching space while our children threw pebbles into the lake aiming at some rocks.

Several paths starting at the lake lead to other hidden nooks. These circuits are well-known among hiking enthusiasts. As we are not so keen on sports, we appreciated the outing and carried home the memory of the parrots squawking inside the surrounding vegetation.
| | | |
| --- | --- | --- |
| | Take Provincial Route 18 (gravel) at Aluminé and travel along 25 kilometers. It is usual to find mud or ice during the summer season. Find out about road conditions in advance. | |
Rates and fees must be requested from each operator.
Interpatagonia does not provide this kind of information.