| | |
| --- | --- |
| Estimated reading time: 2 min. | Mónica Pons MG Turismo Náutico |
Once on solid ground, we explored the native forests, mapped birds and let our skin get impregnated with wild peaceful nature.
At the moment of choosing our vacations, Villa La Angostura appeared on the top of the list. We had enjoyed several seasons at that mountain village which features more and more attractions that lure visitors to return.

As we loved sailing, our priority was to cross the waters of Lake Nahuel Huapi. Some of us wished to fish, others just enjoy sunbathing and all of us wanted to see new spots. We thought it would be convenient to hire a boat at the village and travel comfortably instead of dragging a motorboat along the road.

During our first breakfast at our cabin, we organized the outings in the Nahuel Huapi, which we had sailed in other opportunities. Each of us wrote down what site we wanted to reach.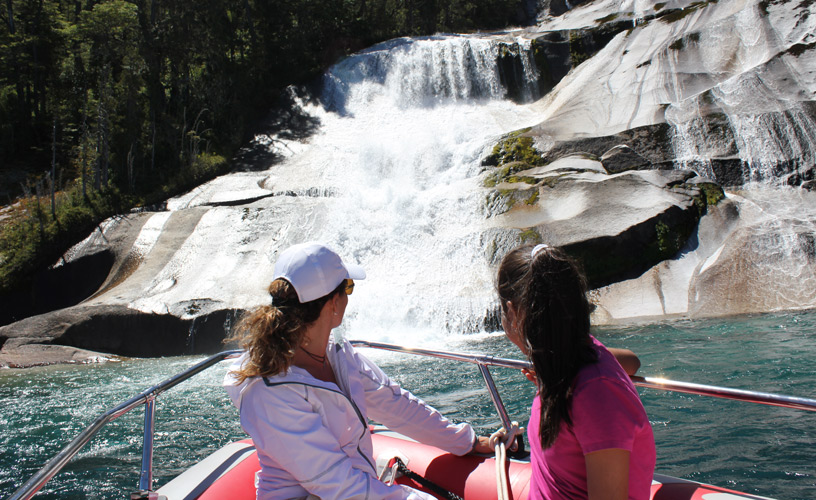 Spots such as the myrtle-tree forest on the Quetrihué Peninsula or some beaches we had visited long ago were familiar to us. We all agreed to visit new beaches.

"Mind you, dad and I will decide. It is us who have the helmsmen license", one of the brothers said assuming he was more entitled than the rest. We laughed because we knew he was joking.

Shortly after starting to sail, we felt the RIB we had hired as ours. We became familiar with the sound it made as well as with the necessary maneuvers to moor and set sail. We carried our lunch, the swim suits to dive in, fishing rods to practice some fly-casting and trolling and a vaccum flask filled with hot water to make mate in the afternoon. Likewise, we had some warm clothes to wear at dusk, as none of us wished to go back early.

Out of the blue, we enjoyed stopping the engine in the middle of a bay and took advantage of the situation to shoot photographs of everything around: the forest, the cabins in the heights, some ducks. As we got past De la Guardia Island, we paid special attention to the rocks that make up the shore in order to avoid any inconvenience. The water would hit them creating a sea of foam.

Afterwards, we left the hill and the bay behind to head for the lake. We wanted to find a familiar sandy beach and use it as a private nook to spend the day.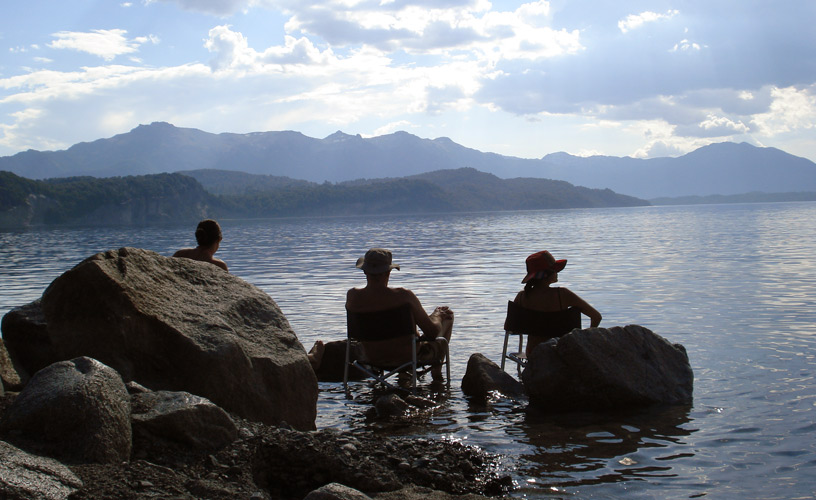 We managed to keep the RIB in order following our father's strict orders. Our bags, the fishing gear, the food and each of us in the correct position, trying no to move too much.

Suddenly, a big wave shook our boat. What was it? The Nahuel Huapi Monster? A change in the wind? No. It was a tourist catamaran sailing across the lake which had left a wake that reached our watercraft in a matter of minutes in the form of a wave.

Near one of the shores, diucas and buff-necked ibis performed their typical Patagonian screaming. That was their territory, not ours. We took a picture trying not to upset them.

Finally, we reached the longed-for beach and devoted ourselves to enjoying the day at that fantastic site. The RIB was safe for the crossing and for the movements we made when we tried to fish.

And thus, the outings followed one another. We usually sailed slowly: sometimes to fish and others to enjoy the scenery and let our mind get lost in the vastness.

During our conversations, we agreed on the fact that having a watercraft available during our stay had been an excellent choice. Crossing the lake gave us a feeling of unique independence and serenity.

Villa La Angostura is likely to be our holiday destination next year.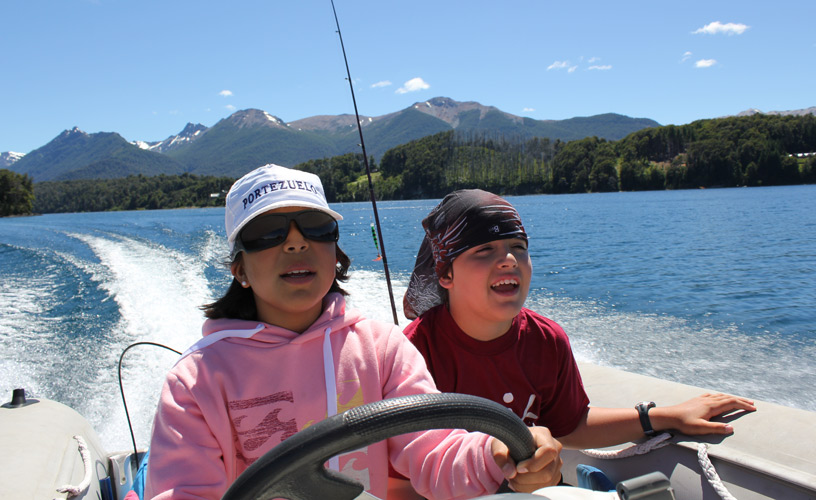 All the watercrafts for rent have been authorized by the National Park Administration and Prefectura Nacional Argentina.
It is essential to have a helmsman license according to the kind of watercraft hired.
It is convenient to make reservations in advance.
A marina service is available for those who get here on their own boat.

MG Turismo Naútico
Ruta 231 km. 55 (8407) Villa La Angostura - Neuquén - Argentina
Tel: +54 294 447-5276 Cel: 15-4329732


Rates and fees must be requested from each operator.
Interpatagonia does not provide this kind of information.