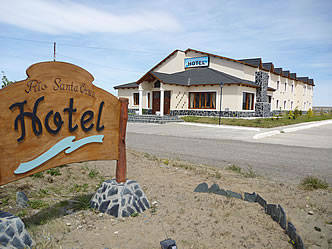 Hotels


Río Santa Cruz


Ruta 3 Acceso a la ciudad
(9303) Cte. Luis Piedra Buena - Santa Cruz - Argentina
Teléfono: (02962) 49-7245 / 7942





Hotel Santa Cruz lies in a strategic spot for those who wish to enjoy our district and its river, or are just on the way to some other destination in Southern Patagonia and wish to stop at a nice cofortable place to rest.
We have ample single, double and triple rooms and all the necessary services to guarantee a very pleasant stay (breakfast, parking, coffee-shop, Wi-Fi, cable TV).
At Comandante Luis Piedra Buena, 240 Km away from Río Gallegos, many activities are waiting for you, and your best choice to enjoy this is Hotel Río Santa Cruz.
Send us your enquiries and we will reply in short.