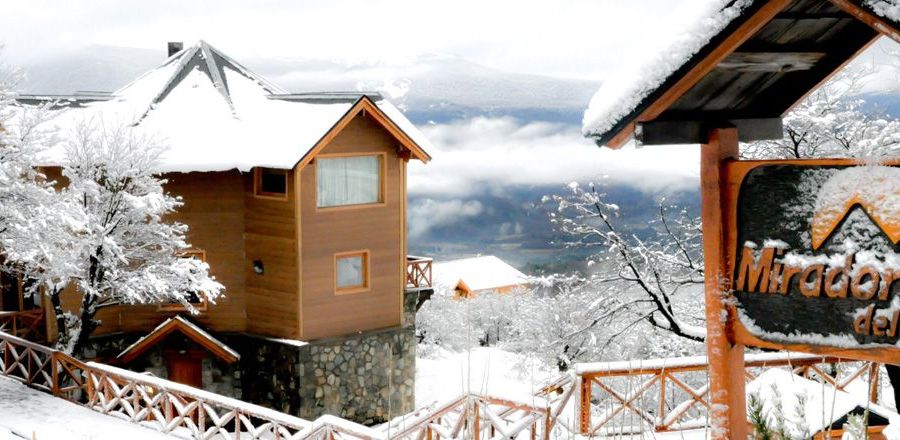 Miradores del Lanín
Lodging at Mount Chapelco
Las Pendientes, San Martín de los Andes, Neuquén, Argentina

Phone: +54 11-43904433 Mobile: +54 9 11 31430163
A solo 20 minutos de San Martín de los Andes, y ofrece vistas panorámicas a las montañas y cabañas totalmente equipados con acceso directo a las pistas de esquí.

Los alojamientos del Miradores del Lanín cuentan con suelo de parquet, baño privado y zona de estar acogedora con sofá. Algunos cabañas disponen de cocina totalmente equipada y chimenea. El servicio diario de limpieza está incluido.
Services
24-hour front desk
Accessibility

Credit Cards

Luggage locker
Satellite TV
LCD
DVD player
Audio equipment
Optional breakfast
Housekeeping
Safe box in the room
Heating
Fireplace
Wake-up call
Hair drier
Bathroom amenities
Free Wi-Fi
Tourist information
Free parking
Restaurant
Recreation
Shuttles not free
Distance to the airport: 45 Km
Check in: 3:00 pm
Check out: 10:00 am
Location
Guest rating
"Verano en Miradores "
Opinión escrita el mes pasado
Es un lugar muy lindo pasando la base del Chapelco 3km más arriba. hay que tener en cuenta que la subida desde el pueblo lleva alrededor de 35 minutos. Una vez arriba la vista es increíble. Se está...
Read full review
"Vacaciones en la nieve"
Opinión escrita en septiembre 2019
Estuvimos alojados en miradores del Lanin en las pendientes.. el lugar es increible y todo el personal del lugar muy atento y servicial, realmente estuvo todo perfecto!!! Quiero destacar que nuestra...
Read full review
"Excelente lugar para ir a esquiar."
Opinión escrita en septiembre 2019
Nos hospedamos en los dormi que se encuentran arriba del club house. Realmente son mas grandes que lo que se ve en las fotos. Ideal si vas 4 o 5 dias a esquiar. Para los friolentos la calefacción y...
Read full review

Write a review
Read all reviews