The National Accuracy Water Landing Championship is a unique event in the world. Whether you jump or watch, pleasure for the sight is fabulous. A must.
The National Accuracy Water Landing Championship is a unique event in the world. Its singularity responds to the fact that sportsmen must land or try to reach the center of a target floating in the river at the tourist City of Valdivia.

Year after year, experienced sportsmen from all over the country and from abroad reach this city, popularly known as "the city of rivers", in order to challenge this curious competition that has gained a significant position among fans of local and international skydiving.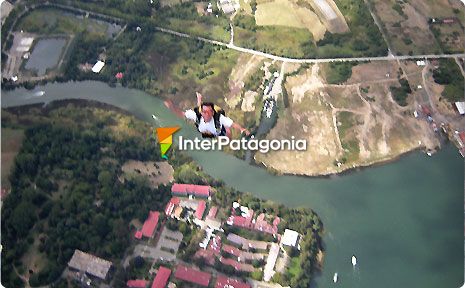 The trial consists in jumping from the plane, enjoying free fall and opening the parachute, which must be maneuvered as accurately as possible in order to land on a target floating in the middle of the river made up by a dead center and six rings around it. This structure includes different scores depending on the area touched by each skydiver. This is why this discipline is called "accuracy landing".

The last day of the competition usually coincides with the celebration of the Valdivian Night, a traditional festival held in the city with fireworks and dozens of ornamented boats parading along the Calle Calle River.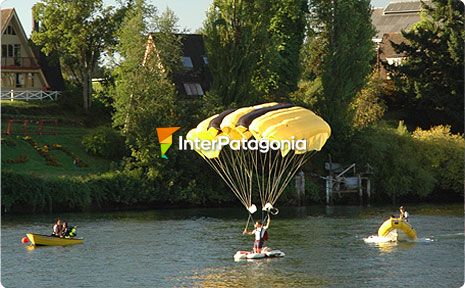 The history of the National Skydiving Championship and its "water accuracy landing" variety dates back to 1978, when this was first practiced on Lake Rapel.
Afterwards, there was a unique event both at Lake Villarrica, in 1979, and in Lake Llanquihue, in 1980. Ever since 1981 till this date, this happening has been held on the Calle Calle River in the City of Valdivia, capital of the new Rivers' Region.

Every new call seduces intrepid national and foreign skydivers who wish to have fun at this unique event.
It is traditional for private clubs, as well as other entities belonging to the armed forces, to participate. Unforgettable experiences are collected at each opportunity.

The Skydiving Championship represents such an attraction at the Valdivian community that every year several hundreds of people make themselves comfortable on the shores of the Calle Calle River in order to enjoy the competition in which the sky gets invaded by color and amusing situations. Laughing prevails.

This event is outlined as one of the most important within the activities scheduled by the Municipality of Valdivia and it has acquired more and more importance every year.

Whether you jump or not, it is important to be there. The pleasure generated by this event in the eye of all attendants is hard to put into words. A must, indeed.
| | | |
| --- | --- | --- |
| | In general, this event takes place during February. It is essential to get in touch with the Municipality of Valdivia in order to learn the exact date. | |

Club de Paracaidismo
Aeródromo Municipal de Pucón (4920000) Pucón - IX Región - Chile
Tel: +56 45 244-1373 Cel: 985326660