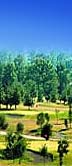 Colico - Novena Región
TRAINLANQUI GOLF & RESORT
Camino Laureles - Km. 5
Phone: (045) 578 218 / 578 219



Nestled on the banks of the Curacao River, 30 Km North of Lake Villarrica and 12 Km West of Lake Colico, lies this complete resort where visitors may enjoy top of the line golfing.
This golf course is immersed in a micro-climate inside an astonishing wild environment.
Even if this is not a giant course, there are 9 ideal holes for lovers of this sport to practice the characteristic techniques. This typical estate from Southern Chile has an avant-garde mini-golf that can be enjoyed by the entire family.
Furthermore, golf lessons are given at Trailanqui, where students do not need to carry clubs, as the resort provides all the necessary elements.