| | | |
| --- | --- | --- |
| Estimated reading time: 2 min. | Karina Jozami | Karina Jozami |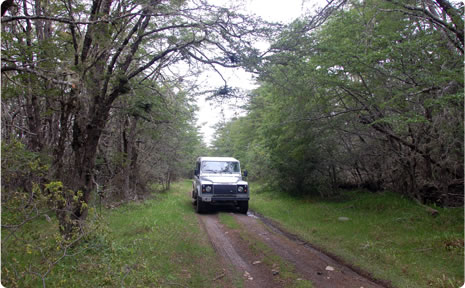 "Oh, you'll be visiting Annie", Gustavo, the manager of Kaiken Inn, said smiling. The thing is that everyone knows Annie Luna and her family and they know that they are very good hosts at their estancia.

It was with these references that we reached estancia Rolito to spend the day. We were welcomed by the hostess and her daughter Ana. We all shared some mates in the warm kitchen. As she cooked lunch, Annie told us the story of her grandfather, Sebastián Luna, who settled down in the lots of estancia San Pablo in 1927. Two years later, he brought along his wife and his son Rodolfo, whom he used to call "Rolito", and after whom this undertaking was named.
Rolito was Annie's father, a career dentist, just like Sebastián, who also abandoned his profession to devote his life to the rural world. This estancia, like most venues in Tierra del Fuego, has always performed sheep husbandry tasks, but lately and as a result of market costs, cattle-raising activities have been incorporated.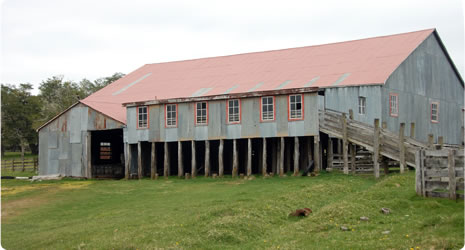 From those early years, the foreman's house and the shearing shed are preserved intact, whereas the rest of the buildings, which should be remodeled and even raised again as a result of a fire, respect the Tierra del Fuego rural style.

As we went out in order to behold the scenery that was just starting to turn grey with some clouds, we came across José, Annie's husband, who invited us for a ride around the field.


"You Can't Leave Without Seeing the Woodland"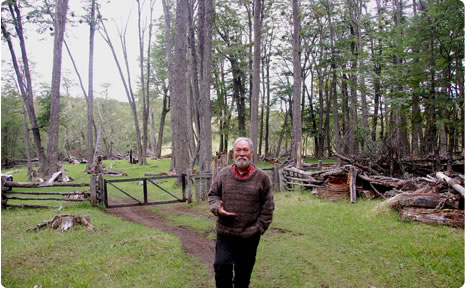 As it was nearly time for lunch, we took the truck to arrive faster. We crossed some gates and got away from the clearing until we got deep into the woodland. A thick green gallery, with the aroma of wild mint and birds dwelling in the foliage, is the anteroom of a majestic lenga woodland that occupies 500 hectares and makes José proud. It is a kind of sanctuary. Except for the lands where the animals pasture in the summer, everything is in the same conditions as nature laid it out hundreds of years ago. We walked for a while beholding the harshness of the barks, some whimsical twisted trunk in search for light, the small shoots growing slowly at the feet of the most ancient lengas. It is not hard to understand José's enthusiasm and his perseverance in protecting this entire environment.

On the way back to the shell, we passed by the shed, where some wool bales were ready from the first shearing. The venue also houses an artificial insemination lab, a technique managed by José in order to improve wool production.

As we returned, four French guests were in the quincho around the grill ready to taste the delicious asado Annie was preparing. We shared the table with them, listened to stories lived by the family and by travelers who visited Rolito. After a brief chat after the meal, we had to continue traveling towards Río Grande, but (just like them) we would have liked to have stayed longer so as to enjoy the coziness of Rolito.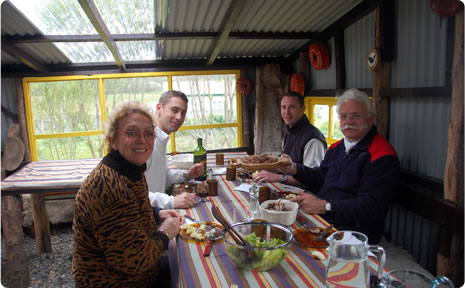 | | | |
| --- | --- | --- |
| | In addition to offering horseback rides, hiking tours and photographic safaris, the estancia lodges guests in 6 double rooms with all the amenities typical of a countryside house. The rural tourism season is in the summer and if you wish to stay at the venue, remember to make reservations in advance. | |

Rolito
R.Comp. 21(ex A)Km 14 - 88 km a Río Gde. (9420) Río Grande - Tierra del Fuego - Argentina
Tel: +54 2964 02901-43-7351

Turismo de Campo
Fuegia Basket 414 - Ushuaia () Antártida - Tierra del Fuego - Argentina
Tel: +54 0 +54 2901 43-7351 /42-2416


Rates and fees must be requested from each operator.
Interpatagonia does not provide this kind of information.