| | | |
| --- | --- | --- |
| Estimated reading time: 1 min. | Karina Jozami | Karina Jozami |
That is the name given to Chile Chico for its good weather and its fertile valleys. Before returning to the main road, we toured the town.
We arrived in Chile Chico with the afternoon sunshine. We had left the Jeinimeni River behind, which borders singular rock formations and is the chosen scenery for sport fishing. This water course flows across the Jeinimeni national reserve, which also shelters a leafy vegetation and a colony of flamingoes and black-necked swans.
The county of Chile Chico is located on the Southeastern shores of Lake General Carrera. Its territories stretch from the border with Argentina to the Northern Ice Fields. The county capital is the city bearing the same name which, unlike other nearby villages, unveils a generous scenery packed with poplar groves, fruit trees and fertile valleys resulting from the pleasant microclimate.
As we went along the road, we could watch the farms to both sides. We resolved to stop at the Patagonia inn, which exhibits objects belonging to the Belgian colonists in the shape of a museum. They made a resolution to leave post-war Europe in order to move to the lands the Chilean government was offering in the South of the country. The main colony settled down in Chile Chico and fostered its future through cattle-raising and agriculture.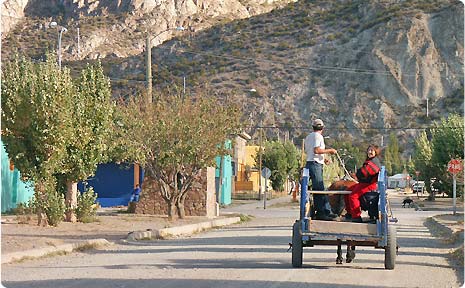 We toured about the urban shell lanes, strolled along the shores of Lake General Carrera and got to the corner where the Andes boat awaits. Ever since 1903 and for several decades, this craft would be the only means of transportation connecting the towns from the lake basin.
On the opposite side of the street, lies the Town Hall, where the Civil Registry also operates, among other local offices.
After riding about the boulevard, we began to abandon the "City of the Sun" in order to resume the mountain road towards the small villages of Fachinal, Mallín Grande and Puerto Guadal.

Sernatur Municipalidad de Chile Chico
O'higgins 3333 (6050000) Chile Chico / Lago G. Carrera - XI Región - Chile
Tel: +56 67 241-1359












The first settlers arrived in Argentina in 1909. Until 1952, when the road between Coyhaique and Puerto Ingeniero Ibañéz was built as part of the Southern Road towards the South, all the supplies would come from the neighboring country.