| | |
| --- | --- |
| Estimated reading time: 3 min. | Mónica Pons Eladio Pinto Nuñez - Jefe Área La Junta - CONAF |
Curiosities of nature in the middle of the evergreen forest of Queulat National Park.
While in Puyuhuapi, we wondered if we had ever seen a snowdrift. The answer was "No". As we knew that the Hanging Snowdrift of Queulat National Park lay a few kilometers away, it was the perfect occasion to see one from a close distance, so there we went.

It is not too far away from the village. We traveled just 19 kilometers along the Southern Road heading South until we spotted a CONAF sign indicating the access to Queulat National Park. The road was bordered by mixed vegetation. We entered the park with the feeling that the trees formed a sort of tunnel and protected us.

This evergreen very thick forest features well-marked trails and signs reading the names of the tree species and the park ranger house, two kilometers away from the entrance. We talked to him in order to start our tour around the reserve in an orderly manner.

The Hanging Snowdrift was our first stop. We had heard so much about that wonder and we could not wait to see it. The trail that led to that area started at the camping site parking.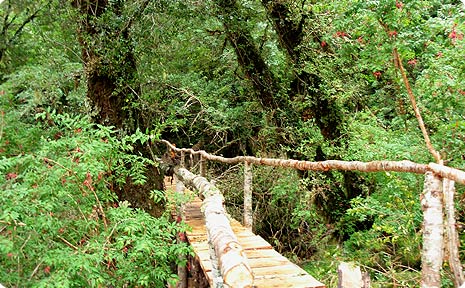 A Time to Walk

Three well-defined trails start there. One of them led us to our destination, which lay 3.5 kilometers away. The climbing plants take advantage of friendly trunks to live on them and there are countless varieties of flowers that show off before our eyes along the way.

Chilean rhubarbs and huge ferns appeared at first and then the vegetation changed according to the height we gained. We had to go through a footbridge over the Ventisquero River to find the first vantage point in our hiking tour. As we noticed the moraine and the indicating signs, we realized the snowdrift was not far.

Finally, we went up the vantage point that offered a magnificent view of the hanging marvel.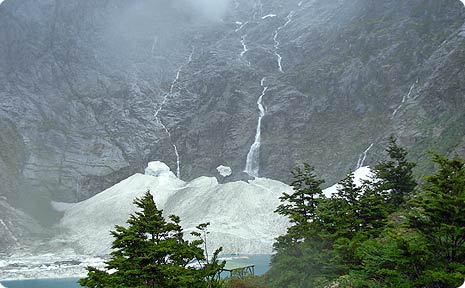 It is not easy to understand that amidst that inaccessible forest there is ever present ice co-existing with humidity and lush vegetation we can reach with our hands.

From the vantage point, everything is seen together: a triangle of compressed snow falling down in meltdown water; an icy waterfall pouring into that alley made of black rocks shaped by deep grooves, among mountain ranges.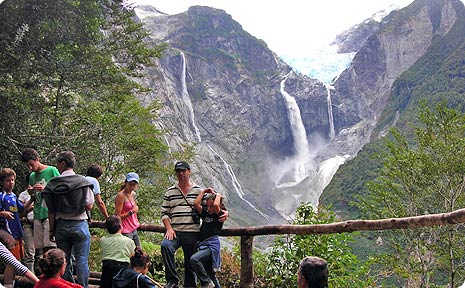 With the Eyes of the Soul

This is a wonder that nature offers us. We just have to go and find it. We felt deeply touched to have listened to the advice somebody had given us not to leave Puyuhuapi without reaching this nook in the middle of the rainforest and taking us home this sight we could certainly not miss.

Lake Témpanos may be accessed in the same area. Only experienced adventurers may follow the trail along the valley towards the source of the Guillermo River after requesting a special permit granted by the park ranger.

A great part of Queulat National Park may be visited by car, but the most representative, unknown and wildest areas must be covered on foot. This is a sample of glaciers with snowdrifts which are constantly on the move.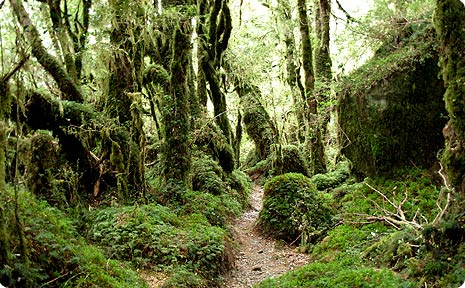 The wide range of hiking trails across this natural reserve is quite interesting. There are special areas where camping and picnic are authorized. Outside the park, this is allowed only on the Northern shore of Lake Risopatrón.

We learned that flora and fauna include a wide range of species in the park. Birds and mammals live freely all throughout this territory. But we could just spot some birds screaming in fear of our presence and some ducks playing in a pond.

We bade our farewell to Queulat National Park and its snowdrift feeling pleased to have enjoyed its environment and this sublime show in the flesh. Then we continued our journey.

An access ticket is paid.
Categories: children, adults, foreigners.
Low-difficulty hiking tour.
Ask for information about the specialized trekking tour and for permission from the park ranger.

Rates and fees must be requested from each operator.
Interpatagonia does not provide this kind of information.