| | |
| --- | --- |
| Estimated reading time: 2 min. | Karina Jozami J.González (1), M.Ptasik (2) y E. Epifanio (3) |
We present other gourmet places where the best gastronomy in the city can be found.

Patagonia Piscis

For a little more than three years, this traditional steak restaurant in San Martín has had new owners, but it still continues to be a classic spot when it comes to tasting grilled meat. Guillermo Ponce de León is in charge of the kitchen. After being trained in the French school and working in the main hotels in Buenos Aires, he made up his mind for the Patagonian atmosphere and flavors. His metiér is sophisticated cuisine with an inclination for dishes made with game meat, such as wild boar and venison, as well as other regional raw ingredients.

"What really matters is that we have managed an excellent fusion between grilled products and gourmet cuisine", Guillermo points out. Luis Vergara takes care of the grill. He is "the face of Patagonia Piscis" for the locals who come to this restaurant. He is in charge of the asador.

We took Guillermo and Luis' advice and, after tasting a board of regional smoked products, we could not say no to a small serving of grilled meat. As well, we tasted the trout with leek cream and sautèed vegetables. The menu includes handmade pasta, with special touches such as black trout sorrentini stuffed with trout in basil sauce with roasted almonds.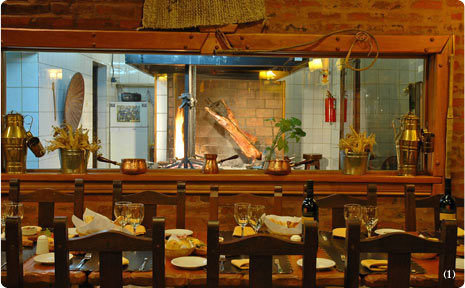 For dessert, we were tempted by a delicious chocolate fondant with ice-cream.
The varied and complete menu is complemented by a wine list including the best national wineries as well as Patagonian wines.

We could confirm that balance between grilled products and sophisticated cuisine Guillermo had mentioned, which turns Patagonia Piscis Restaurant into an excellent gastronomic proposal.


La Barra

This is an excellent option to have lunch or dinner while beholding the beauty of Lake Lácar. In the cosy atmosphere of this restaurant owned by Ana and Milton, the dwellers of San Martín de los Andes as well as tourists enjoy the exquisite gastronomy with the taste of homemade dishes and a neat service.

Queca, who is in charge of the kitchen, manifests her years of experience cooking classical local dishes. In addition to the specialties, the pizza made by Fabián is another strong point for La Barra. Following Ana's suggestion, we tasted a version of grilled vegetables of the season, ideal to accompany with a good glass of beer.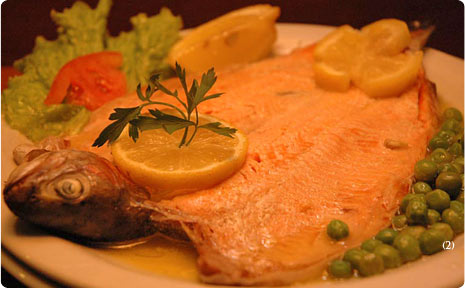 Afterwards, we had the delicious ciervo a la cazadora (venison stew) with apple pure and mashed potatoes, typical from the mountain range gastronomy, just like the trout in lemon sauce.
The menu is completed with tempting desserts and a careful selection of wines that includes the best wineries in Mendoza, San Juan and Neuquén.

"We have grown thanks to the support of the people who have visited us and now recommend us" Ana confessed proudly. And to prove this, customers only need to come by, sit at one of the busy tables of the restaurant and enjoy the simplicity of its classical Patagonian cuisine.

Patagonia Piscis
Villegas 598 (8370) San Martín de los Andes - Neuquén - Argentina
Tel: +54 2972 41-1912

La Barra
Brown y Costanera Lacar (8370) San Martín de los Andes - Neuquén - Argentina
Tel: +54 2972 42-5459