| | |
| --- | --- |
| Estimated reading time: 3 min. | Mónica Pons Marcelo Sola (1) y Jorge González (2) |
Considered a traditional tour in the area, it may be enjoyed on its own or in combination with other attractions to turn it into an all-day outing.
A horseback ride leading to the site known as Cabeza de Indio (Indian Head) is a perfect excuse to go on a circuit that involves winding mountain paths, woods and viewpoints. We made the necessary arrangements with our guide and his Criollo horses, which were more than familiar with the rocky soil and would lead our way safely.

We met at the right place very early in the morning and got ready to ride two young spirited mares. A few minutes after we set out, we had already adjusted the saddle and the reins, but had the feeling that the mares had already noticed our lack of experience. Soon afterwards, they attempted a light gallop to show us that they would be in charge.

We left the bridge over the Quemquemtreu River behind and headed for Loma del Medio, where we would stop at the first viewpoint.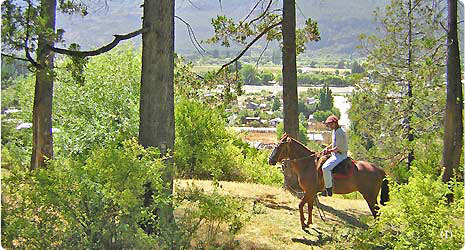 As we rode on, the guide told us that the typical English saddle is not used during this kind of outing. Instead, the gaucho horse tack is used on top of a blanket. This has to do with the kind of terrain on which the horse travels.

"We are crossing a transition area known as ecotone. We have left the Patagonian steppe behind and are getting deep into the Valdivian rainforest", the guide said. Thus, we went into a thick tree grove where coihues, ñires, cypresses and lengas stood out. The only sound we could perceive was that coming from the branches rocking against one another. The rest was just silence.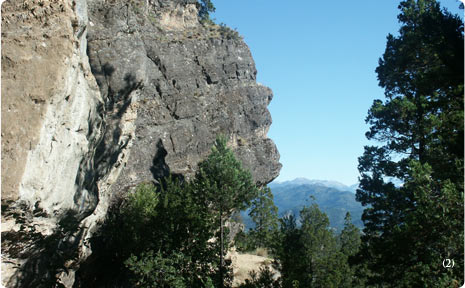 In a matter of minutes, we came to a clearing and caught a panoramic view of the Azul River Valley. Below us, its crystal-clear waters were meandering towards Lake Puelo and the so-called Cordón Nevado (Snowy Range) set the limit with neighboring Chile towards the West. To complete the wide range of green, blue and brown hues, Mounts Tres Picos, Motoco and Lindo boasted their high summits.
When we were still some meters away from the place called Cabeza del Indio, we tied our horses to a tree and continued on foot along a trail on a ledge that added up adrenaline to the ride.

At last, that rock formation carved by the wind and the water into the face of an Indian appeared before us. Featuring a large size, this site has a high spiritual meaning for the descendant of the Mapuche dwellers. For a while, we observed every detail and memorized it. Then, the same trail led us to the horses and we started our way back.

Reaching Cabeza del Indio meant much more than seeing the eroded rock. It let us enjoy a wide variety of climates and perfumes. Also, we accessed higher places that display everything from another point of view. The horses helped us achieve our aim without much effort.
| | | |
| --- | --- | --- |
| | Llevar agua e indumentaria deportiva cómoda. | |

Maputur
Perito Moreno 2331 (8430) El Bolsón - Río Negro - Argentina
Tel: +54 294 449-1440


Rates and fees must be requested from each operator.
Interpatagonia does not provide this kind of information.




Maputur
Perito Moreno 2331 (8430) El Bolsón - Río Negro - Argentina
Tel: 54 294 449-1440