| | |
| --- | --- |
| Estimated reading time: 3 min. | Mónica Pons Eduardo Epifanio |
All along the route, not only do rock formations change their appearance and height but also the wildlife that lives near waterways or shores vary completely.
As in every nook in southern Argentina, Puerto Deseado guarantees adventure and amazement at each tourist attraction. This time we got deep into the Deseado Ría gorge emulating Charles Darwin's expedition in 1833.

We chose to set out on board large RIB boats led by expert sailors and naturalists. Some 10 people dressed in striking red life-jackets were waiting eagerly at the port to get on the boat and leave.

Javier, our guide, welcomed us and gave us some advice that would turn out to be useful during the navigation and the hiking tour we would take later on. As well, he explained to us what we would soon come across. He included interesting comments that made the local geomorphology clearer.

We headed west and according to estimates, 42 kilometers separated us from the city. Javier was carrying binoculars, which let us catch a better glimpse of the shore. This made the voyage more amusing.

The winding ria features various materials on its shores. The wind has done his job all throughout the area during thousands of years, leaving its mark on the rocks. For the same reason, the wildlife changed as we approached the end of the circuit at Marsicano Pass.

The ria is made up by saltwater that entered from the sea into the river due to its low volume. This contributes a diverse sea fauna including Commerson's dolphins and cormorants in the first stretch, the one lying close to Deseado.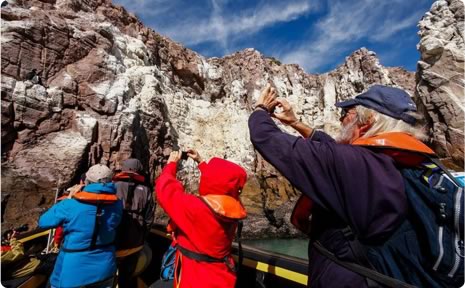 The adventure started when we landed and got ready to climb up the rocks and see the cave paintings. Known as Cueva de las Manos (Cave of the Hands), it dazzles visitors as they become aware of the presence of native dwellers in this inhospitable Patagonian area.

After a break and a snack accompanied by delicious mates, we went up to Darwin's viewpoints. The scenery looks wild and vast from the heights. This is not a mass tourist destination and when the hiking is done in an orderly fashion and in silence, visitors may come across hares and guanacos on the steppe. Other animals like flamingos, ducks and great bustards prefer the muddy shores of the ria and sometimes fly over the boats.

We had the luck to watch a numerous flamingo family with their wonderful pink hue and their long legs walking composedly over the mud in the coast. It was the first time we had seen them in their habitat and their fine posture captivated us.

Already tired, we went back to port on the RIB and the only movement we made from that moment on was to press the camera shutter button in order to shoot some images of whatever animal crossed our sight.

We adopted Darwin's message: 'I believe I have never seen a place more isolated from the rest of the world than this rock crevice amidst the vast plains...'.
Tourist services

Puerto Penacho
Te: 54 297 154058472/154126271

Safety gear and snacks included (check with operator).
Subject to weather and tide conditions.
It is advisable to wear waterproof clothes and carry some warm clothes such as a windbreaker.

Darwin Expediciones
España 2551 (9050) Puerto Deseado - Santa Cruz - Argentina
Cel: 15-6247554

Los Vikingos Turismo Aventura
Estrada 1275 (9050) Puerto Deseado - Santa Cruz - Argentina
Tel: +54 297 487-0020


Rates and fees must be requested from each operator.
Interpatagonia does not provide this kind of information.










Activities: navigation with birds and animals watching and hiking
Details: desolate wilderness like the one explored by Darwin and Fitz Roy.
Includes: safety gear, lunch and snack.