Born in La Pampa, he graduated from Instituto de Cocina Profesional L´Ecole in Mar del Plata and did several internships on the Atlantic coast. At Miramar, he worked together with chef Emiliano Lorenzini, who opened his mind to new realities, tastes and high cuisine presentations, especially as far as Italian cuisine and patisserie are concerned.

Once he settled down in San Martín de los Andes, he joined the staff of cooks at Paihuén Resort de Montaña, where chef Pablo Buzzo used to be the head. As the latter retired, Martín García took charge of the resort's gastronomy.

Caleuche Restaurant offers formal regional cuisine as its main simple element accompanied with seasonal vegetables. Each dish requires good blanching, accurate cooking times and quality of ingredients. Cream and fat that might overshadow the base flavor are avoided. Technically, each presentation must become important in combination with a certain wine. However, the tendency is to admit the free choice of each customer. The wine cellar offers national wine labels and the chance to compare grapes from different wineries. Wine tasting sessions are held on a regular basis. Winery weeks and the presentation of famed chefs also take place periodically.

The Wine Bar is a more relaxed and informal venue where grilled pizza, cheese fondue and provoletas (barbecued provolone cheese) are the base of its menu.

According to Martín García, cuisine haunts him. It requires a big effort but the reward is that customers will assert they had a hearty meal.



Paihuen Executive Chef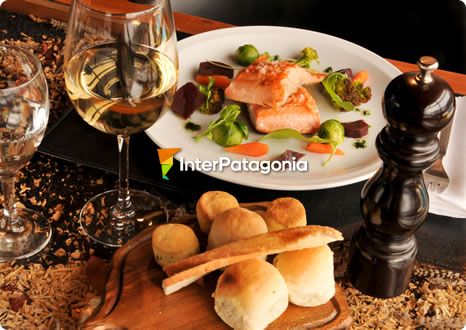 For four people.




» 1.1-kg trout (approximately)
» Broccoli: 100 gr
» Brussels sprouts: 100 gr
» Baby carrots:100 gr
» Beets: 150 gr
» Bean sprouts
» Sea salt flakes / pepper
» Extra virgin olive oil: 100 cc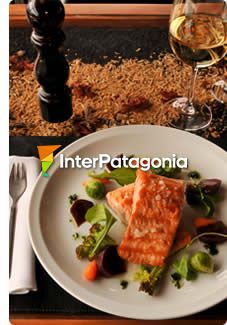 For the trout
Buy a boneless trout fillet at the fish market and cut eight steaks weighing approximately 120 grams each. Cook for 4 minutes on each side on a griddle sprayed with extra virgin olive oil.

For the vegetables
This dish is made with winter vegetables. The freshest must be chosen. They are cooked in little water until they are tender. Remove from the pot and interrupt the cooking process by immersing them in iced water. Cut the broccoli stem off and then cross cut its top so that it cooks faster. Cut the Brussel sprouts in half and boil both vegetables for 2 minutes. Once they are cold, put them away inside a hermetic container. Chop the beet and boil for 4 minutes. Clean the baby carrots and boil them for 3 minutes.

Basil Emulsion
Put a handful of basil leaves and the juice of half a lemon in a mortar. Crush this mixture with the pestle and add a thread of neutral oil. Keep crushing until the emulsion is ready. Correct its taste by adding salt and pepper.
Presentation
Lay out two pieces of trout right from the griddle on each plate next to the heated vegetables. Place the basil emulsion on top of the latter. Add salt flakes and dill sprouts.


Blanch
To put food in hot water for a few minutes and then immerse it in iced water to stop the cooking process. This technique is used in order to cook the food to its right point preventing it from losing vitamins and minerals in excess, or else to make it easier to peel vegetables or nuts.
It is also used to remove salt excess, impure substances or bitter flavor. It is also used to reduce the volume of food or to prevent it from being pre-cooked.