| | |
| --- | --- |
| Estimated reading time: 1 min. | Marcelo Sola Eduardo Epifanio |
The museum is located on the waterfront of Lake Nahuel Huapi, on 12 de Octubre Avenue, on the corner of Sarmiento Street. It was created by the Bariloche Paleontological Association, an institution made up by several specialists whose main endeavor is to detect and preserve the fossil record of the entire area and, especially, of Northwestern Argentinian Patagonia.
One of the specimens displayed at the museum is the ichthyosaurus found at Lotena Hill. This species dwelled in the Jurassic seas 150 million years ago. Besides, visitors may observe the reconstruction of the jaw of a shark that lived 22 million years ago, during the Tertiary. There are also countless amphibians, plants and insects on display. Of course there is a wide collection of fossils that confirm the existence of a great variety of flora and fauna in the entire Patagonian area.

Each glass cabinet features a clear explanatory record containing all the information about the period and site of origin of each fossil. Many of these elements date back to 300 million years ago.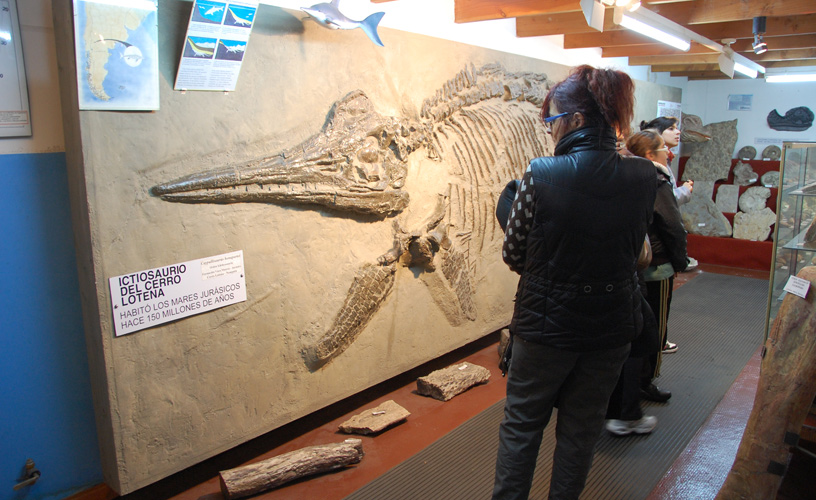 The Paleontological Museum also treasures a dinosaur egg. The entire evolution and inner development of this specimen is shown in an explanatory sign including photographs.

As well, animals manifesting characteristics featured by present specimens may be observed. Such is the case of the archaeopterix, which had bird feathers, the size of a raven, a jaw with teeth and a very long tail.
Likewise, another interesting but small fossil housed by the museum is a 1.50-meter-long dinosaur that dwelled in the area of Cinco Saltos 90 million years ago, during the Upper Cretaceous Period.
| | | |
| --- | --- | --- |
| | Monday to Saturday from 4 to 7pm. | |
| | | |
| --- | --- | --- |
| | Free. | |