| | |
| --- | --- |
| Estimated reading time: 2 min. | Mónica Pons Jorge González |
A rush of adrenaline on a four-hour excursion as snowmobile drivers to visit the surroundings of the city.
Visiting the ski trails was our main interest during our first trip to Caviahue. They are magnificent, very quiet and for the whole family. We had also learned that there were other activities to be enjoyed and therefore, we decided to add some adrenaline to our vacations by going on a snowmobile tour around the corners of the hidden town of Copahue.

It was a perfect day. A 17-km stretch separates Caviahue from Copahue. As snowmobiles are speedy, agile and flexible on snow, they are ideal to take shortcuts. Everything was white and it seemed as if nobody except us had stepped on those lands before.

Starting the Engines

We were provided with colorful snowmobiles for our driving excursion. We devoted our first minutes to find out how these vehicles operated. They have only an accelerator pedal and brakes and the secret for riding them is to keep the balance between speed and stability. No previous training is necessary.

We set off leaving Lake Caviahue to the right behind us and, little by little, we got deep into the untouched mountain. Abel Valdebenito was our guide, a resident who knew all those spots thoroughly.

We sorted out some huge rocks and a few depressions on the first stretch upwards. We always kept the group formation. It was impossible to make any comments with a snowmobile driving next to us. As we drove on these vehicles, we got used to their power.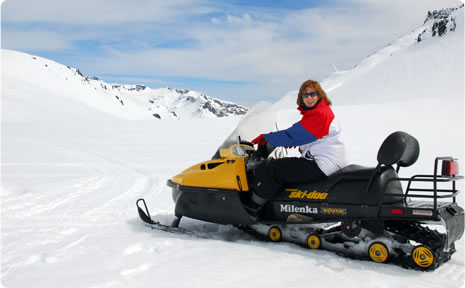 The front skis slowly glided upwards and downhill on the ungroomed terrain. The snowmobile has a track at the rear end. We stopped several times to stare at the landscape from the top, take pictures and make sure that everything was in good condition to go on. We continued climbing.

Moving Waists

To keep the balance, the body constantly leaned from right to left following the mountain slopes and the curves. We constantly watched Abel and his movements in order to maneuver the snowmobile properly.

We knew something about Copahue, a hot spring water center open only from December to April. In winter, this tiny town becomes uninhabited as a result of strong snowfalls that cover the constructions completely.

We stopped at a lodging house which used to shelter Gendarmerie staff in the summer long ago. Next to it, the first hot spring water lagoon, known as Las Máquinas (the Machines), invited us to take a fast bath.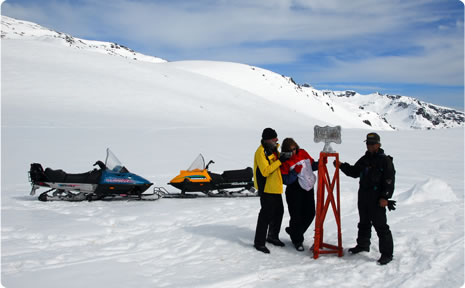 We parked the snowmobiles while other men decided to try the benefits of these hot spring waters and mud; some boys were already submerged up to the neck in the lagoon. Although this stop was not part of the original plan, it was a pleasant moment in this excursion.

We could find openings in the ground from where hot spring waters emerged at a high temperature. These pools producing bubbles and steam are known as fumaroles. It was an awesome spectacle in the middle of a snow field. On one side is a room called "The little hell" (El Infiernillo): this room uses steam rising from the earth, healthy for those who suffer breathing and bronchial disorders.

Again, on board the snowmobiles we rode over the powder snow and we came to an ancient small iron tower with a sign on each side reading "Argentina" and "Chile". It was a milestone, an orange landmark which set the boundary between both countries.

In the neighboring areas, we visited a National Gendarmerie office where we registered our names and talked with the staff to learn more about their life during winter isolation.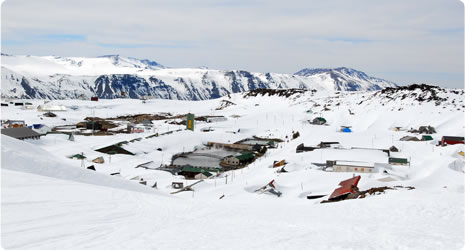 Final Destination

Another stretch on our snowmobiles and we reached the viewpoint of the town of Copahue, from where there is a blank white picture of the whole environment. We took many photographs and Abel told us: "when the winter comes to an end, the hot spring center staff starts to prepare the facilities whereas The National and Provincial Roads Department is in charge of clearing the streets with snow removal vehicles".

After driving down a gentle slope, we parked on one side of the main building of the Copahue hot spring center. This complex concentrates all the medicinal therapies. We went across the footbridges over the hot spring waters reserve bordering Laguna del Chancho (the Pig's Lagoon). Its constant high temperature keeps the snow away.

In the surroundings, visitors can find cottages and hotels which only show the upper part of their roofs. Abel said that this spot attracts a great number of visitors in summer and the entire environment becomes colorful and bustling. There are several kinds of baths, relaxing sites and places to go for a walk, all these alternatives available to visitors.

We said good-bye to this site. We got on the snowmobiles and, as we looked back, a constant grey mist bade us farewell.

On our way back, we appreciated that sensation of placidity coming from the sound of the skis gliding on the unspoiled snow. A contrast with the feeling of flying at the time we gained speed or turned around leaving a snow trail in the air.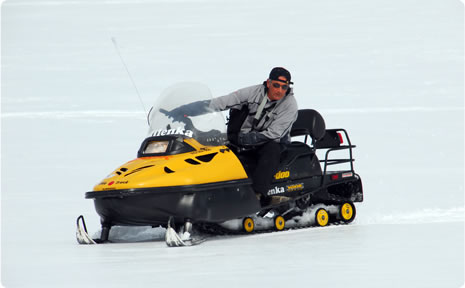 | | | |
| --- | --- | --- |
| | Snow clothing, gloves and glasses are recommended. Children are not allowed. The excursion is available only if weather conditions are favorable and windless. | |

Caviahue Tours
Ctro. Comercial - Loc. 11 (8349) Caviahue - Neuquén - Argentina
Tel: +54 2948 49-5138 / 11 4343-1932


Rates and fees must be requested from each operator.
Interpatagonia does not provide this kind of information.