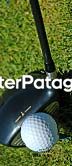 Valdivia - Décima Región
SANTA ELVIRA CLUB DE GOLF
Camino Santa Elvira s/n
Phone: (063) 221-6150



Santa Elvira Golf Club is located in a tourist destination par excellence: Valdivia. Possessing many local tourist attractions, such as adventure travel, excursions to volcanoes, hot springs, a ski resort, national parks, lakes, beaches, Spanish forts facing the ocean and countless alternatives for visitors to discover during their stay at the Club.
The course, member of the Chilean Golf Federation, stands 10 minutes away from the Northern entrance to the city and occupies 26.5 hectares of unique beauty, on the shores of the Calle-Calle River.
It has 9 holes with a large amount of tees. Its neat fairways and greens make the practice of this sport interesting and amusing.
The course is par 72, with 6,356 yards for men and 5,605 for women (2 rounds).
As well, even if this is a small circuit, there is a swimming-pool, a tennis court and a children playground. At the Club House, visitors may spend a good time with the family in a cosy atmosphere.