| | |
| --- | --- |
| Estimated reading time: 3 min. | Mónica Pons InterPatagonia.com |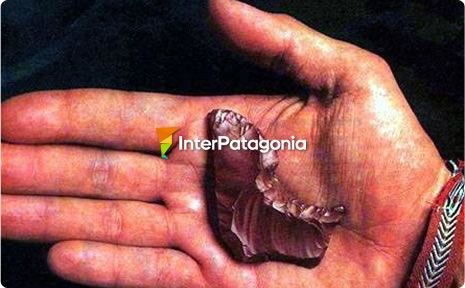 The famous Cueva de las Manos (Cave of the Hands) and Piedra Museo (Rock Museum) are extremely relevant prehistoric sites displaying the presence of indigenous people on the vast, barren plateau of the south.


Visits to the archeological sites can be scientific or simply an adventure in the Patagonian desert. Both are valid approaches to unraveling the past.

Cueva de las Manos

On our way to Pinturas River canyon we stopped at the Interpretation Centre and booked a guided tour along the river to the Cueva de las Manos. Up and down we went along a trail by the stone wall.

We learned that scientific research divided the different eras according to two cultures tehuelche (11,000 years ago) and casapedrense (7,500 years ago). Tehuelche arrow heads, scrapers and rasps are clear evidence of their level of development and fine technique

During the casapedrense era, life depended on hunting which accounts for the skins, meat and bones found next to stone arrow heads and remains of guanacos, skunks, rodent, cervids and birds.

Rock ledges and projections provided shelter, favoring the development of settlements in Patagonia at the end of the Pleistocene. These hunter-gatherers left their imprint on cave walls where the different layers depicting their lifestyle and the number of individuals in the tribes can still be seen.

On reaching the main cave we simply could not believe our eyes or ears as the guide told us that 'hundreds of hands and other motifs in positive and negative colored red, ocher, yellow, green, black and white have been discovered. Human figures as well as guanaco hunting scenes which have been studied by archeologists since 1972 decorate the walls. It is actually unbelievable that the different images can still be seen so clearly after such a long time.'

Further ahead, Estancia Cueva de las Manos (formerly Los Toldos) offers accommodation and a guided tour of the rugged landscape in 4-wheel drive vehicles followed by trekking. Recommended only for experienced, reasonably well-trained people.

Scientists carried out a thorough study of the valuable material found in the site resulting in a better understanding of the origin of the men who invented boleadoras, a throwing weapon made of rounded stones at the end of interconnected crude leather straps. All the information provided by our guides painted a clear picture of these tribes whose dexterity and dedication proved vital to their survival.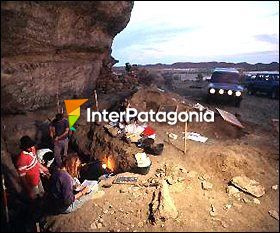 Piedra Museo

This archeological site, located 250 kms from Pico Truncado, is important as it is not only the oldest in Argentina, but proof of early human settlements approximately 13,000 years ago. It was discovered by none other than the prominent Argentinian paleontologist Florentino Ameghino.

The presence of water, good grassland and a variety of animals has been analyzed. This was a great incentive for tribes to settle and devote their time to hunting and their crafts.

Among a host of valuable pieces, the Museo Regional de Pico Truncado displays a lithic sequence from the site at Los Toldos as well as reproductions of cave paintings, petroglyphs and photographs of the site at Piedra Museo.

Singularity, variety and abundance are the main elements of these cave paintings connecting us to the origin of life on the Patagonian plateau.

to get from Pico Truncado to The Interpretation Centre take Provincial Route 43 to NR 40. Go 88 km south along paved RN40 to a gravel road junction. Turn left and continue 28 km (new access).
To reach Piedra Museo go 250 kms towards the northwest of Santa Cruz, south of Deseado River.

Histórico Antiguos Pobladores
Gob. Gregores 414 y S.Arroyabe (9015) Pico Truncado - Santa Cruz - Argentina
Tel: +54 297 499-0048

Información Turística
Gob. Gregores y Urquiza (9015) Pico Truncado - Santa Cruz - Argentina
Tel: +54 297 499-2202 / 2251