| | |
| --- | --- |
| Estimated reading time: 2 min. | Palmiro Bedeschi / Pablo Etchevers |
In Comodoro Rivadavia you can go on an interesting walk on the 216 meters overseas dock while you enjoy the sun and the coast and observe the fishing activities.
The port of Comodoro Rivadavia constitutes an attractive alternative for international commerce as well as an interesting tour of the Bioceanic Corridor.

You will pass by YPF oil terminal, where oil and its by-products are loaded and unloaded by means of a system of underwater buoys and pipes.

This port was inaugurated on 12th October 1996 after two years work to finish the old dock started in 1924.
The new work covers 300 meters and the old part 1800 meters. They conform a port consisting of a dock of considerable length with modern defences for ships of more than 9 m. draft.

This port of agitated internal water presents a depth of 8 meters, while along the pier the depth is 10 meters.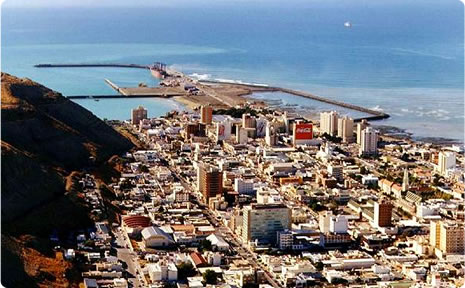 While you walk around you will observe gulls and seagulls flying and feeding along the coast of Golfo San Jorge.

Nautic sports have expanded in the port and the surrounding areas.
We recommend you observe a daybreak from the pier or enjoy a nice afternoon fishing mackerel from the dock where sea wolves come to play.
In the evening you can go to a canteen and have some exquisite seafood.
Rates and fees must be requested from each operator.
Interpatagonia does not provide this kind of information.