| | |
| --- | --- |
| Estimated reading time: 2 min. | Jorge González |
Leaving to the south from Comodoro Rivadavia through National Route Nº 3 you will find this tourist village situated in Golfo San Jorge.


This village, which limits to the north with Punta Piedras and to the south with Punta del Márquez, possesses some 600 meters of fine sand beaches enjoyed by visitors during the low tide.

The Patagonian coast between the plateau and the sea allows for a wide range of activities at any time of the year, mainly in summer when you can enjoy the beach.
Here you can practise windsurf, kayaking or water jet riding.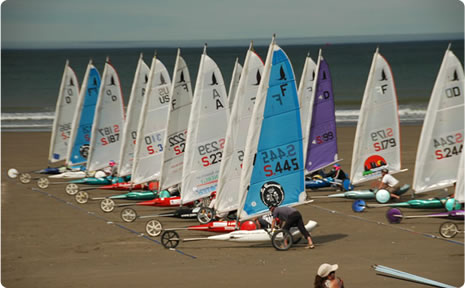 Beach volleyball or windcar driving are also practised on these beaches, ideal for such purposes.
Other events like seven a side rugby matches or 4 x 4 driving through circuits especially created are also seen on the beach.

Fourtrax ridings are classical in Rada Tilly, since many people in town have one at home. Those who are fond of tranquility can go a little farther on the extense coast and enjoy sun rays in summer.
In the village there are restaurants, hotels and cabins for you to spend some excellent vacation in the region.
History narrates that in July 1948 president Juan Domingo Perón established through a decree a reserve of 375 ha. for public use in Rada Tilly. For this reason, 24th July 1948 has been established as foundation date of Rada Tilly.
Rates and fees must be requested from each operator.
Interpatagonia does not provide this kind of information.