| | |
| --- | --- |
| Estimated reading time: 1 min. | Karina Jozami Gustavo Lobos |
A tour around the historic shell in the urban center shows the architectural beauty treasured by Bahía Blanca.
The city of Bahía Blanca has many buildings, monuments and recreational centers which, due to their age and architectural design, are considered real local relics.


The historical center includes the foundation square and its surrounding blocks, which show off buildings from the late XIX and early XX century.


The Bernardino Rivadavia central square, which used to be surrounded by iron gates, has a French design and a central monument, diagonals and statues that were donated by foreign organizations. There is also the famous Englishmen's Fountain, which represents the elements of progress for modernitiy: navigation, the railway, agriculture and cattle.


Opposite, the Municipal Palace, built in Bourbon style, has an impressive staircase and a 42-meter-high tower. Next to this building, the old Bank of the Province of Buenos Aires, present venue for some municipal premises, shows Ionic features, with semi-circular arches.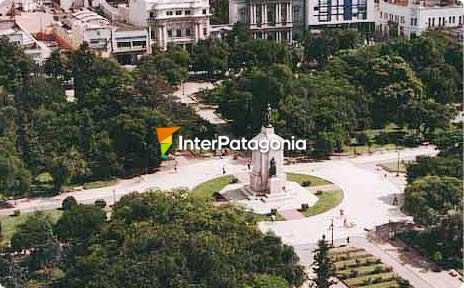 Very close, the Nuestra Señora de la Merced Cathedral, with two side towers and a double row of paired-off columns stands out.


In the intersection of Sarmiento and Estomba Street, rises the Banco Alemán, with simple lines that give hierarchy to the main entrance.


Another classical building in the city is the Banco de la Nación Argentina, located on the corner of Estomba and Moreno, which was the first financial entity to have a metallic structure. Its large door, which covers the height of the two main floors, and the clock stand out.


To end this tour, the Court Hall stands on Estomba Street. Its 33 meters of height show off an eclectic and sober façade, typical of public buildings.


It is with this heritage that the center of the city of Bahía Blanca welcomes visitors who begin their tour around Patagonia.










The name "Bahía Blanca" refers to a deep and narrow strip of water that goes into the continent. When the tides recede, its shores are covered in white saline efflorescences. The sun heat evaporates humidity and the swampy ground where crabs dwell are left visible.
It is believed that this name was given by the Indians, good observers of geographic features.