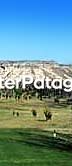 General Roca - Río Negro
GENERAL ROCA GOLF CLUB
Isla 32 Nº 8332
Phone: (02941) 443-1566/ 449-2117/ 42-3806


A few kilometers from the City of General Roca, lies the General Roca Golf Club. Situtated in an open environment inside a forest area, this is an ideal circuit for the practice of this exciting sport.
This course presents all the necessary alternatives for lovers of this game. It has several fairways and undulations that make the game more attractive.
The circuit has 12 holes, surrounded by several pines, plum trees and ash trees, among the most outstanding species. The round is escorted by a branch of the Negro River, which includes holes 10, 11 and 12.
Among the most difficult holes, hole 1, at the very beginning of the game is a 406-yard par 4 with an elevated green, and hole 3, with 416 yards and a second shot that is hidden, where there are three banquers to be crossed ahead.
»Other features:
Holes: 12. Par: 70. White Tees: 5852 yards. Blue Tees: 6343 yards. Red Tees: 5505 yards. Type: Parkland. Open from Tuesdays thru Sundays.