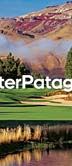 San Martín de los Andes - Neuquén
CHAPELCO GOLF & RESORT
Ruta 234 Loma Atravesada de Taylor
Phone: (02972) 41-0216/42-1785



This tourist and sport resort including 430 lots of real estate development, which also offers a first class hotel resort, is nestled amidst the impressive scenery of San Martín de los Andes, a few kilometers from the center of the city. It has the first 18-hole golf course designed by Jack Nicklaus and Jack Nicklaus II, built by the Overseas Golf Construction. One essential feature in its design is the respect paid to the environment.
Its lawn is fully integrated with the surrounding landscape, with one additional advantage: Chapelco Golf & Resort will be part of the exclusive Jack Nicklaus International Golf Club. Furthermore, the resort admits the practice of other sports and offers all the necessary comfort to satisfy high level tourism, giving special emphasis to the environment and life quality.
It also has a club house with coffee-shop, snack bar, restaurant, pro-shop, changing rooms, lockers, management offices and service annexes.
Open hours for public assistance, visits and sales: from 10am to 5pm in the winjter and from 10am to 8 pm in the summer.
»Other features:
Number of holes: 18. Par: 72. White Tees: 5956 yards. Blue Tees: 6348 yards. Red Tees: 5163 yards. Black Tees: 7114 yards.