| | |
| --- | --- |
| Estimated reading time: 2 min. | Mónica Pons Gentileza Camping del Perilago |
This is an ample lake space devoted to the practice of several sports highly appreciated by outdoor life enthusiasts who enjoy fishing, camping and kayaking.
Downstream the Pichi Picún Leufú Reservoir, on the Limay River, there lies an area of incredible scenic beauty. The surrounding is made up by a whimsical rock formation and a lake featuring irregular shores and recently planted vegetation.

We reached Kumelkayen Beach by car with the purpose of getting to know this place and spending a day in the sunshine savoring the beach and the water. We were impressed to see what men managed at this space that used to be a moor. It is now a green zone with sandy beaches, grass and bushes. We walked along the waterfront, which features a beautiful park and lights and makes a strong contrast with the surrounding environment.

We approached the administration building in order to register and then settled down in a spot where we prepared our kayaks and the safety items we needed to go for a ride.

We saw many people taking shelter under their colorful beach umbrellas on the shore. We placed our picnic elements on a table next to a fire pit with a grill where we would cook our meat at noon.

We went kayaking both before and after lunch. We came across other watercrafts of different kinds on the even surface of the lake. We had a nice sensation of peace. The only sound was made by our paddle as it entered and left the water territory.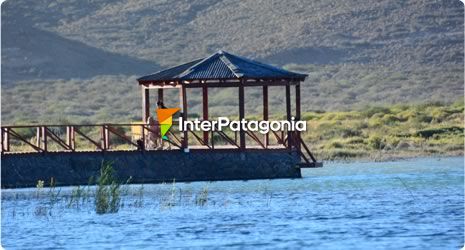 We had a chat with a local boy who told us that one of the biggest attractions in the lake is fishing. "Trout and perch are caught here either fly-casting, spin fishing or trolling", he told us.

A lifeguard was keeping an eye on the swimmers while standing at a coquettish roofed watchtower.

Perilago Campsite offers the chance to pitch a tent and access restrooms and showers while spending some days of rest. We were surprised by the great amount of young people who were using the facilities. We heard it was usual to see them gather around and enjoy music and pizza at the diner inside the venue.

Other sports such as volleyball and football have an appointed spot. In fact, some kids came along riding their ATVs and got ready for a game.
Amidst the Patagonian steppe, the beach and the campsite offer quietness, good services and shade to enjoy a wonderful day with the family.
| | | |
| --- | --- | --- |
| | It lies 5 kilometers away from the district. | |
| | | |
| --- | --- | --- |
| | As far as angling is concerned, it is necessary to bear a license and to be familiar with the fishing regulations available at official entities and stores in Piedra del Águila. | |

Dir. de Turismo y Cultura Municipal
Ruta nacional Nº 237 kilómetro 1444 (8315) Piedra del Aguila - Neuquén - Argentina
Tel: +54 2942 49-3456

Camping del Perilago
Balneario Kumelkayen (8315) Piedra del Aguila - Neuquén - Argentina