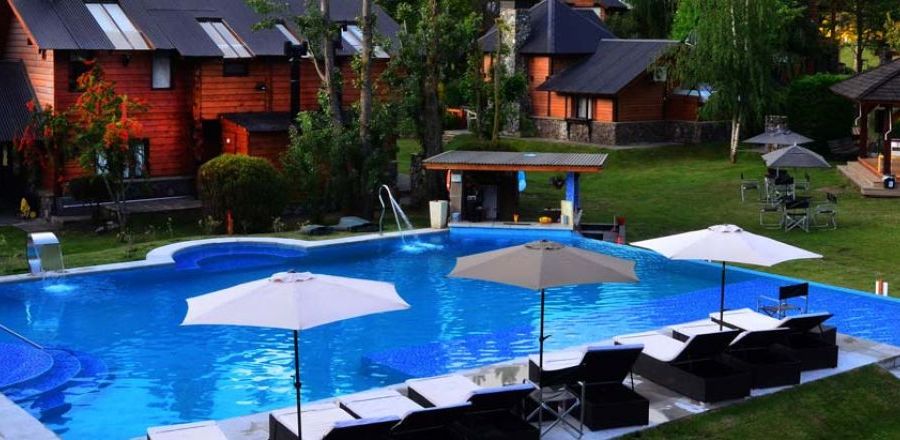 La Comarca
4-star Hostelries
Av. Arrayanes 3200, Villa La Angostura, Neuquén, Argentina

Phone: +54 294-4495633 Mobile: +54 9 294 4309406
La Comarca es una Hostería Boutique de categoría 4 Estrellas, que cuenta con 10 habitaciones, todas con vista a las pistas de ski del Cerro Bayo.

Ubicada en Villa la Angostura y emplazada dentro de un complejo de 20.000 m2.; un lugar paradisíaco dentro de la Patagonia Argentina.

Para hacer de su estadía un verdadero placer contamos con un completo Spa de montaña, que cuenta con Sauna Seco, Hidromasaje grupal, Ducha Escocesa, Gimnasio, Salas de masajes y estética para el cuidado integra.

lOfrecemos un servicio integral de asesoramiento y contratación de excursiones ajustada a cada grupo familiar, para hacer de sus vacaciones una experiencia inolvidable.
Services
24-hour front desk
Satellite TV
LCD
DVD player
Buffet
Housekeeping
Room Service
Safe box in the room
Heating
Fireplace
Wake-up call
Shower
Whirlpool tub
Hair drier
Bathroom amenities
Free Wi-Fi
Outside heated swimming-pool
Terrace / Solarium
Tourist information
SPA
Sauna
Conference room
Parking not free
Football pitch
Gym
Restaurant
Recreation
Distance to the airport: 80 Km
Location
Guest rating
"Verano en VL"
Opinión escrita en febrero 2020
Hotel con equipamiento completo para la chicos y grandes. Desayuno completo y con opciones adicionales. Habitación con heladera, tv, balcón, jacussi. 2 piletas climatizadas. Atendido por sus dueños...
Read full review
"Volvería cada año"
Opinión escrita en febrero 2020
Nada de lo que pueda decir alcanzará. Es todo maravilloso. El lugar, la ubicación, la limpieza, la atención. Eso merece un comentario aparte. Realmente se ocuparon de resolver cada detalle. Nos...
Read full review
"Exelente como siempre"
Opinión escrita en septiembre 2019
No alcanzan las palabras para describir la excelencia de la comarca y guardianes del bayo. Es una familia generosa, amable y todo su equipo van acorde a ellos y son de una grandeza y generosidad...
Read full review

Write a review
Read all reviews