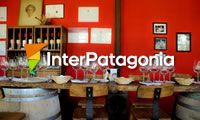 Accesories to be considered when it comes to good wines
Foil Cutter:In order to remove the foil that covers the wine bottle cork, it is no longer necessary to resort to knives. The foil cutter is a small device that cuts it perfectly and without making any efforts.
Drip Collar:This device is extremely simple and its use avoids any stains on the tablecloth. It consists in a flexible circular plate that is introduced in the bottle neck and makes it possible to pour the wine into the glass by impeccably cutting the final drop without any need to use a napkin.
Wine Vacumm Pump:This is a pump that works as a syringe and comes with a plastic cork that replaces the original cork. When using it, the air is extracted and the wine remains vacumm-bottled. This way, it may be kept without losing its properties. This enables you to open a bottle and drink only one glass if you wish, without wasting the rest of the wine in the bottle.
Cooler Sleeve:This is a kind of wrapping whose inside is lined with gel bags. It is kept in the refrigerator and used to cool a bottle of white wine when you have forgotten to keep it in the refrigerator. Just cover the bottle for five minutes, and the wine temperature will drop to 12 degrees.