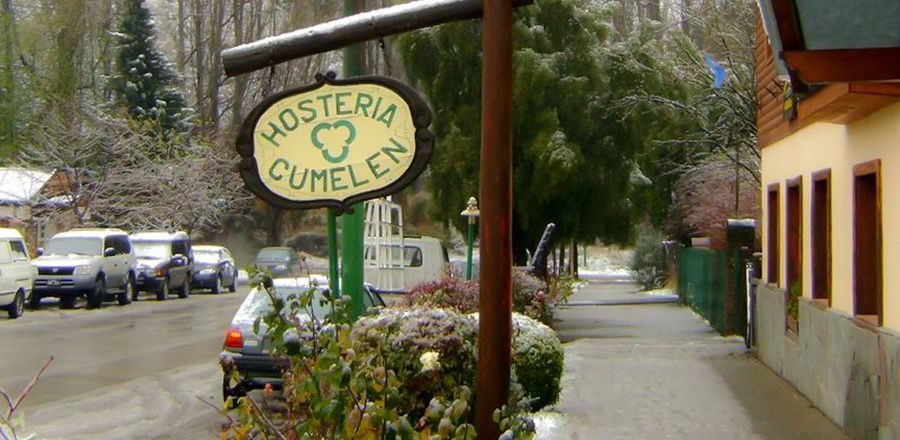 Cumelén
2-star Hostelries
Elordi 931, San Martín de los Andes, Neuquén, Argentina

Phone: +54 2972-427304
Enclavada en pleno centro de esta hermosa aldea de montaña: San Martin de los Andes. Nuestra Hostería lo invita todo el año a pasar unas vacaciones inolvidables disfrutando del entorno y la multiplicidad de distracciones que San Martín le ofrece, así como también de nuestra cálida atención.
La Hostería es atendida por sus dueños.
Services
24-hour front desk
Accessibility
TV
Cable TV
LCD
Audio equipment
Breakfast
Optional breakfast
Housekeeping
Room Service
Safe box in the venue
Fan
Heating
Fireplace
Alarm clock
Wake-up call
Shower
Bathtub
Bathroom amenities
Free Wi-Fi
Tourist information
Library
Conference room
Free parking
Shuttles not free
Distance to the airport: 20 km
Excursiones naúticas
Check in: 2:00 pm
Check out: 10:00 am
Location
Guest rating
"NO LO RECOMIENDO. Lamento por el personal de comedor Excelente."
Opinión escrita en febrero 2020
La primer noche 27/02/20, nos brindo habitación la persona a cargo, pagamos por ello a un precio no razonable teniendo en cuenta precio-calidad. Pero dado la hora agradecimos que nos dieran...
Read full review
"no volvería, no recomiendo..."
Opinión escrita en enero 2020
En primer lugar nos atendió un sr llamado Ruben, muy mala onda, contestaba de muy mala manera. La habitacion que era para pasar la noche, nos servía para eso. Las sabanas estaban usadas, habia pelos...
Read full review
"Buena relación precio - calidad."
Opinión escrita en octubre 2018
Las habitaciones son pequeñas pero confortables. Buena relación precio-calidad, El desayudo completo. Buen agua caliente y calefacción agradable. Por ser hostería es agradable, nada que reclamar. Es...
Read full review

Write a review
Read all reviews