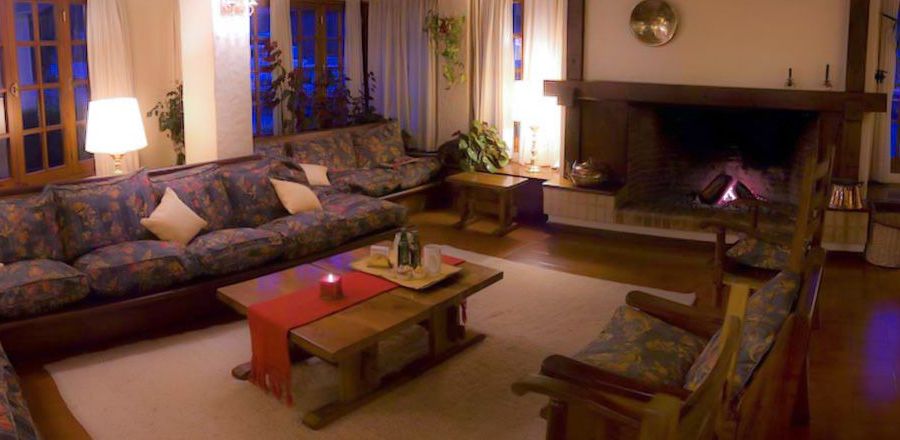 Del Viejo Esquiador
3-star hotels
Av. San Martín 1242, San Martín de los Andes, Neuquén, Argentina

Phone: +54 2972-427690 Mobile: +54 9 2944 637611
Si está pensando en San Martín de los Andes,
Del Viejo Esquiador lo espera para alojarse y vivir unas excelentes vacaciones entre lagos, bosques y montañas.
Cómodas habitaciones con una decoración de espíritu patagónico y con todos los servicios necesarios para tener una grata estadía en nuestro hotel.
La cálida chimenea en el salón de usos múltiples y su agradable bar más la atención personalizada hacen que su estadía sea más confortable.
Services
24-hour front desk
Accessibility
Elevator

Credit Cards

Luggage locker
Cable TV
Buffet
Housekeeping
Safe box in the venue
Fan
Heating
Fireplace
Alarm clock
Wake-up call
Shower
Hair drier
Bathroom amenities
Free Wi-Fi
Tourist information
Free parking
Distance to the airport: 21 Km
Check in: 11:00 am
Check out: 10:00 am
Location
Guest rating
"Impecable hotel"
Opinión escrita 3 semanas atras
Se trata de un hotel que tiene ya algunos años pero se encuentra en impecable estado y bien ubicado. Muy limpio, excelente atencion. El desayuno es muy completo, budines caseros, tostadas de pan...
Read full review
"Excelente atención"
Opinión escrita en octubre 2019
Muy buena atención y amabilidad por parte del personal del lugar. Ambiente cálido y familiar. Lugar muy recomendable para venir en familia o con amigos. Muy buen desayuno! Sobre Avenida San Martín...
Read full review
"Muy bueno"
Opinión escrita en octubre 2019
Excelente servicio. Todo el personal es super atento. Peidimos adelantar el desayuno y accedieron con mucha amabilidad. Las habitaciones muy lindas y la ubicación es excelente. Sumamente...
Read full review

Write a review
Read all reviews