The name of the museum ("Desiderio Torres") pays tribute to a native dweller quoted by Francisco Pietrobelli, founder of Sarmiento, in his memories as a man of good who helped the first colonists that were trying to settle down in the area.
Inaugurated on June 21, 1972, the museum treasures testimonies of those who once ruled on this Patagonian soil, accompanying the history of the community. It contains countless lithic pieces and arrow points, as well as bone material, harpoons, needles, pottery and ritual pieces.

Most visitors are amazed at the sight of an extremely beautiful and original quillango tehuelche, made of leather and ostrich feathers, a unique piece donated by an old Welsh family.

Desiderio Torres Museum takes us to the time labyrinth, which lets us go on a journey to the past in order to understand the present.

Paleontological Room



Extraordinary original dinosaur pieces extracted in the region stand out inside this room and make up the heritage as a result of an agreement signed in 1994 by and between Universidad Nacional de la Patagonia San Juan Bosco through its department of paleovertebrates and the Municipality of Sarmiento.

Archeological Room

This room contains important vestiges of missing cultures (Tehuelches and Mapuches) which had settled down in the Sarmiento Valley and its surroundings.

Around 24,000 pieces make up the heritage corresponding to these cultures. Approximately 16,000 are on display, including varied and extremely interesting lithic material.

The oldest pieces in the room take us back to 10,000 years ago. Arrow points made of various materials, shapes, sizes and age, knives, trays, grinders, amulets, buttons, vessel remains, location maps, pipes, needles, and so on are part of this collection.

Colonists Roo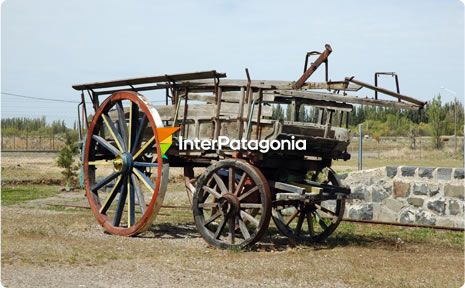 Once inside this room, visitors first spot a significant photographic collection that gives evidence of the early days and the development of the culture, along with elements, letters, documents and furniture used by the first nations.

A real treasumre in the museum is the flag hoisted in the colony, made with sheet cloth and a sun painted with a saturation technique, whose tinge was extracted from the roots of the calafate. This excellent piece was made by native women.

Pottery

A show of the regional culture center invites us to see a varied and highly interesting collection of items made with local clay. These are works made with much affection and respect for the preceding culture.

A unique museum in a unique place in Argentina. Ideal to be visited with the family and to travel back in time.