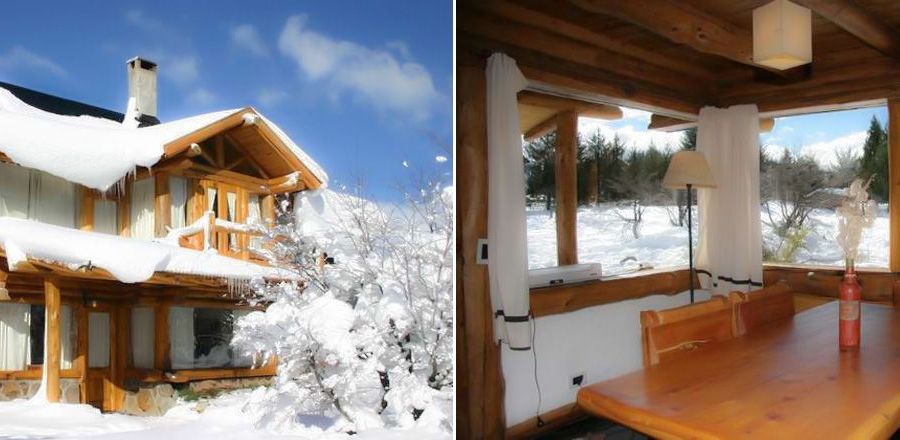 Cabañas Antu Pukem
Apart Hotel - 3-star Cabins
Base C. Catedral, San Carlos de Bariloche, Río Negro, Argentina

Mobile: +54 9 11 64150005
Con una vista paradisíaca hacia la base del Cerro Catedral se encuentran las cabañas ANTU-PUKEM. Un hospedaje patagónico íntimo donde podrán olvidarse de todo y compartir con los suyos toda la naturaleza de la patagonia Argentina enmarcada en el paisaje de Villa Catedral, ya sea para el esquiador o el que guste de la maravillosa atracción de los paisajes, destinos turísticos y actividades de el mejor centro de ski de Sudamérica. En cualquier época del año cabañas ANTU-PUKEM ofrece asesoramiento en turismo y deportes de montaña.
Ubicadas directamente en el acceso al centro de ski a pocos metros de los medios de elevación.
Services
24-hour front desk
Satellite TV
LCD
DVD player
Audio equipment
Housekeeping
Safe box in the room
Heating
Fireplace
Alarm clock
Shower
Whirlpool tub
Hair drier
Free Wi-Fi
Barbecue area
Free parking
Pets allowed
Distance to the airport: 11 Km
Check in: 2:00 pm
Check out: 11:00 am
Location
Guest rating
"Excelentes cabañas"
Opinión escrita en febrero 2019
Demasiado lindo todo!! Estuvimos alojados en la cabaña 2 por una semana en verano. Hermosa, muy amplia, con dos habitaciones y dos baños completos, ideal para pasar unos hermosos días en familia. La...
Read full review
"Increíbles cabañas"
Opinión escrita en octubre 2018
Todo espectacular! La atención de Andrés, el confort de las cabañas y el muy buen quincho que ademas de ser super completo tiene una increible vista al cerro catedral. Estuve en la cabaña 3 y me...
Read full review
"Excelentes cabañas atención y ubicación "
Opinión escrita en octubre 2017
A 200 mts de los medios, Cabañas súper cómodas y grandes. Excelente atención, hasta nos hicieron un cordero. Muy recomendable para ir con la familia. Sugiero las de arriba. Dos cuartos, dos baños...
Read full review

Write a review
Read all reviews