| | |
| --- | --- |
| Estimated reading time: 1 min. | Marcelo Sola Jorge González |
In addition to the beauty of its Atlantic coast, Camarones hides an excellent gastronomic proposal for the most demanding gourmet palates. Indalo Inn Restaurant, an elixir for the senses.

After touring around the Cabo Dos Bahías wildlife reserve and its spectacular cliffs, we headed for the center of this small village in the Province of Chubut. At one of the most exclusive corners in Camarones, we found Indalo Inn Restaurant, which serves an interesting menu containing national and international dishes.

A distinguished environment and a delicious kind of harmony gave us the sign that this would be the right place for lunch. Hosted by its owners -Francisco and Fátima Rodríguez- along with Marcelo Figueredo, Indalo Inn opened its gates in September, 2004.
A simple minimalist decoration, surrounded by pastel greens and oranges, encourages appetite even when customers are not hungry. In the meantime, delicious dishes are prepared in its kitchen.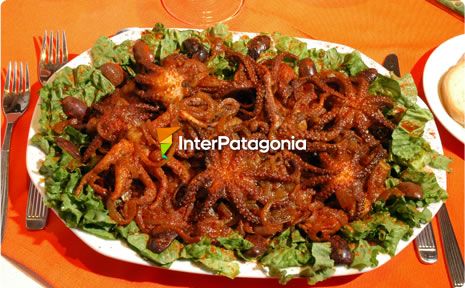 The house specializes in fish and seafood, as well as in Mediterranean food, though there is a wide range of dishes for customers with different tastes.
Authentic signature cuisine is developed in this restaurant as whenever Francisco gets into the kitchen, he plays with ingredients until he manages to obtain well balanced dishes that amaze visitors.
The wine list at Indalo Inn is from intermediate to high quality. It contains Argentine wineries producing genuine varietals to accompany the delicious creations of its owner.

This time, we chose some natural shrimp with salsa golf as a starter. When it was served, the waiter brought a bowl with mint so that we could wash our hands after the entrée. We found this detail quite eloquent and outstanding.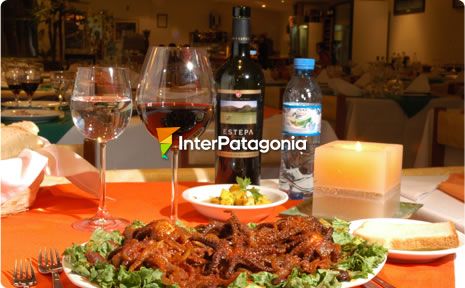 We recommend the famous "Tushee octopus", made with radicchio, black olives and octopus sautéed in extra-virgin olive oil, for the main course. A true Indalo Inn creation, in which the combination of flavors in each product gives shape to a delicious outcome.
Another interesting proposal is to taste the white salmon in garlic and parsley or Roquefort sauce. This is a mandatory dish, as this city is the usual seat for the National Salmon Festival.

The fresh products used to make the dishes at Indalo Inn Restaurant in Camarones are worth a special mention. We recommend not missing this gastronomic proposal during your trip around this beautiful village in Southern Argentina.


Complejo Indalo Inn
Sarmiento y Roca (9111) Camarones - Chubut - Argentina
Tel: +54 297 496-3004/ 448-6452