| | |
| --- | --- |
| Estimated reading time: 1 min. | Marcelo Sola Marcelo Figueredo |
Early in February, the District of Camarones dresses up to celebrate the Salmon National Festival.
During this period, a great deal of sport anglers and tourists gather at this destination in order to celebrate this important event.

This is the anglers' festival. That is how they refer to it. They arrive from all around to enjoy a spectacular weekend. Ever since 1990, this occasion has been acknowledged as a National Festival and included in the National Tourist Office calendar as it summons a significant number of visitors who are reached by its magic.
The festival consists in a celebration in which the traditional deep-sea fishing contest stands out along with the shore fishing contest, the election of the queen and Miss Salmoncito (little salmon) and a great popular lunch called "Chupín del Pescador" (a dish made with fish specially for anglers). This meal is completely free of charge and is the closing of the event.

For over twenty years, in the midsummer, the District of Camarones has proposed its main event and the healthy challenge of the abundant wonder of its salmon fishing grounds for anglers.
The competition takes two days on which dozens of watercrafts set sail to enjoy the fascinating struggle.

At the same time, the shore gets crowded with fishing rods avid for the generous bite of fish schools. Soon, lovers of fishing start filling their buckets with the hope that their harvest may distinguish them as winners.
Prizes and trophies will accompany the record of the surely true anecdotes told by the contestants. On the Blue Night, the election of the National Salmon Queen and of Miss Little Salmon takes place in an atmosphere of permanent joy, comradeship, fun and heavy full sea breeze.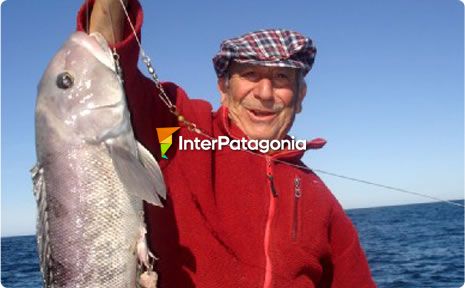 It is important to point out that one of the features of Camarones is that the beaches spreading South, across Provincial Route 1, are used as bathing resorts. Some of them include recreational camping sites with all the essential services to provide high comfort for visitors.

We recommend attending the Salmon National Festival, which creates a very joyful atmosphere in combination with the fantastic southern coast scenery. Totally worth a visit.
| | | |
| --- | --- | --- |
| | From Rawson, capital of the Province of Chubut, take National Route 3 towards the South up to the junction with Provincial Route 30, which stands at 110 km. from the starting point. Once there, visitors should take Route 30 towards the East to reach Camarones, after traveling 70 km. | |
| | | |
| --- | --- | --- |
| | get in touch with the Camarones Tourist Office before such date in order to request the terms and conditions for the contest, as well as the activities schedules. | |

Municipalidad de Camarones
San Martín 570 (9111) Camarones - Chubut - Argentina
Tel: +54 297 496-3040






first weekend in February.