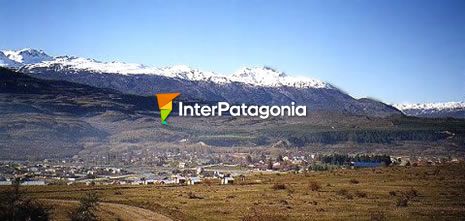 Another natural wonder, where green and blue embrace everything, from the forest to the waters.
Situated 42 km. to the south west of
Cochrane
, the mount is 3.700 m. high and presents abundant vegetation on its hillsides, the first exhibition of green tones contrasting with the ever white summit covered in snow all year round. As a corollary to such an abundant forest, there is also a magnificent panoramic beauty. If you go on from the mount, you will find Esmeralda lagoon farther ahead, an intense blue lagoon in a steppe environment. After that, the road gets into to the plateau that leads to Río Salto after crossing the bridge Mellizo 1, where the river splits into two branches falling into the valley in the shape of waterfalls. The water bursts into a dry vital sound. Farther ahead you can watch the waterfalls better from bridge Mellizo 2. The place is overwhelming, so we recommend you be careful when moving around the area of plateaus and narrow trails. Some 10 km. farther, you will see lake Chacabuco with its forested coast and a glacier behind. When you get closer to Laguna Larga, you start descending to cross a bridge over river Barrancoso and arrive at the valley of the river Los Ñadis. This river runs from south to north among swamps with clumps of rushes and forests, and from this place you will have an excellent view of Campo de Hielo Andino.