| | |
| --- | --- |
| Estimated reading time: 4 min. | Mónica Pons InterPatagonia.com |
Sleeping and enjoying everyday life at one of the old local estancias means getting to know their rural tasks and history without sacrificing the comfort of big cities.
Route 40 goes along almost the entire country and the stretch that crosses the Province of Santa Cruz offers countless incredible scenes including hills, cascades and waterways. Visiting nearby estancias and staying at one of them is an added value to our tourist circuit.

The common factors in all of them are that they are devoted to sheep husbandry, they share local customs and visitors may be delighted by activities practiced in a natural environment as well as by homemade cuisine. The fact that excellent rivers and fisheries lie close to these venues represents one more reason for fishing enthusiasts to enjoy.

Many of these estancias started with the arrival of the first settlers in the area. They had to endure several economic crisis due to weather harshness and today show their arduous daily tasks.

Estancia La Angostura

Located in the core of the high plateau in Santa Cruz, on the ample valley of the Chico River, wrapped up by a thick tree grove, this family estancia welcomes tourists as members of the household. The typical tasks at this country house are shared with guests, and so are the homemade dishes, the anecdotes and history of its surroundings.

The members of the family cook and accompany guests in their outings on horseback or fishing experiences. The venue offers comfortable rooms and there is a pond inside the estancia where bird-watching may be practiced, a sport that is becoming more and more popular.

Estancia Laguna Verde

At first sight, the surroundings of this estancia looked unspoiled and rudimentary. However, we changed our mind as we got deep into its territory. The scarce vegetation is compensated by a main house featuring all the necessary comfort, in addition to well-known fisheries in nearby water bodies.

There are fifteen small ponds inside the venue but the greatest attraction is the proximity of Lake Strobel (or Jurassic Lake), famous for the characteristics and development of rainbow trout. Anglers from all round the world are lured to this lake by the good specimens it promises, in spite of the strong winds and waves.

But that is not all. El Barrancoso, just 8 kilometers away from the fishing lodge, is a mountain river with variable volume of meltdown water chosen by fly-casters because large struggling pieces are captured in its waters.

4WD guided tours, photographic safaris and horseback rides are extra attractions at the estancia, along with the discovery of ruins of Tehuelche housing structures and rock engravings dating back from over 6,000 years ago.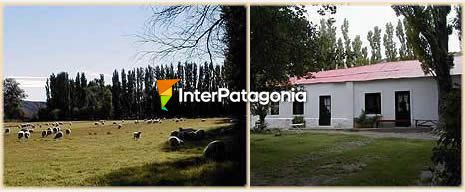 Estancia Los Ñires

If there is something this estancia can boast about, it is its wonderful views of the mountain range, as it lies very close to Mounts San Lorenzo, Pico Agudo and Huemul. Hiking tours, guided ascents of medium difficulty and El Salto Cascade are some of the tours available in the venue.

As it lies very close to the Chilean border, some geographical features located in the neighboring country may be appreciated, such as Lake Brown. At the end of the day, asados criollos and lamb may be tasted according to the breeding procedures and customs of the region.

Each of these rural venues promise the typical quietness of the area, the enjoyment of free time and the observation of local denizens, used to an isolated kind of life, speaking less and knowing more.

Estancia La Angostura:
It lies on Provincial Route 29, at the 91.5 kilometer marker, 55 kilometers away from Gobernador Gregores.

Estancia Laguna Verde:
Travel 115 kilometers along National Route 40 leaving from Gobernador Gregores towards Lake Strobel.

Estancia "Los Ñires" :
Travel 250 kilometers along National Route 40 setting out at Gobernador Gregores towards Bajo Caracoles; then turn into Provincial Route 39 heading for Hipólito Yrigoyen.

La Angostura
a 55 Km. de Gdor. Gregores (9311) Gobernador Gregores - Santa Cruz - Argentina
Tel: +54 2962 49-1501 Cel: (02966)15-621043

Estancia Laguna Verde
Ruta nacional 40 hacia el lago Strobel, unos 115 kilómetros. (9311) Gobernador Gregores - Santa Cruz - Argentina
Tel: +54 2962 45-4216 / 42-6757

Estancia Los Ñires
(9311) Gobernador Gregores - Santa Cruz - Argentina
Tel: +54 (2963) 49-0100 Tel/Fax: +54 (2963) 43-2042