| | |
| --- | --- |
| Estimated reading time: 3 min. | Mónica Pons Eduardo Epifanio |
Nestled in an open landscape of extreme beauty, the center of Lago Verde is surprisingly neat and good information is provided to visitors.
Upon entering the urban shell in Lago Verde, we resolved to park the car and walk about its streets, twists and turns.

The square was what first caught our eye due to its neat lawn and the details that pay homage to the pioneers. Also, because it is within the paved area of town. Many pine-trees, a large cart wheel and a tethering post are some of the elements that remain as relics from former times.

Learning to Live

A series of thoughts conveyed in rustic wooden signs and scattered around town are a way to show both denizens and visitors some guidelines to enjoy the environment without being aggressive.

Public buildings are clearly identified. This is the case of the Town Hall, the Tourist Information Center, the Carabiniers and the Emergency Center, all of them facing the square.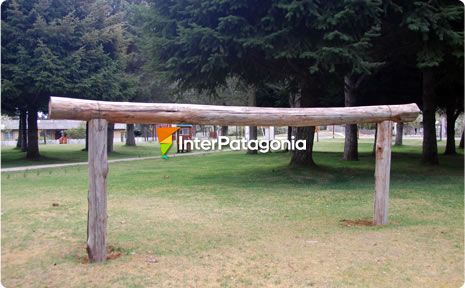 Starting there, we walked around the surrounding streets and watched very neat houses and gardens. Cleanliness and order definitely stand out.

Leaving town, we visited the Medialuna stadium, a place where the huasos take part in rodeo contests and horse breaking events. This is a festival both for competitors and spectators, as honor is put at stake at every heifer charge.
Sunny Sunday

We went on for a few more blocks and came to the Pan de Azúcar bathing resort: a very shady area specially prepared for families to spend a summer day and enjoy some asado by a small creek. It may be reached on foot, as it lies close to the most important places in town. The traditional town festival and the town anniversary are celebrated there and, at times, musical shows are also presented in this venue.
Maybe it is impossible to get to know a town just by walking around. The essence of its inhabitants may be only guessed after spending some more time and having held some deep conversation with them.

The feeling we got after some short stay in Lago Verde, however, is related with a simple way of facing life in splendid, almost unspoiled, surroundings where local dwellers have learned to take care of the environment they open up for visitors.