| | |
| --- | --- |
| Estimated reading time: 2 min. | Mónica Pons Eduardo Epifanio |
Visitors may go along its trails, swim across its waters, fish and sail during most part of the year. If we consider the good quality of fishing, we may assert that this is a generous lake.
Days in the open air always seem short if we have had a good time having lunch and chatting with the family or friends. That is why we thought it was an excellent idea to share an asado on the shores of Lake Verde. Though its name stands for "green lake" in Spanish, its turquoise shades were familiar to us from previous visits.

As we visited the Pan de Azúcar bathing resort, we set out towards Lake Verde by car with everything necessary for the occasion. We drove along 2 kilometers and, as soon as we arrived, we searched for a space available under the shady trees.
We found a nice site on the rocks very near the shore. We were settled in the area known as La Herradura (the Horseshoe) and we used one of the fire pits available. The lake appeared spectacular before our eyes.

When we finished eating asado, a part of the group stayed there playing cards while we went for a walk in the surroundings. We followed a trail full of trees known as radales and headed for one of the vantage points.
A Time to Walk

After a brief ascent, we made ourselves comfortable on a huge rock from where we watched a large part of the water body. It looked quiet, not a sign of wind on its glittering surface.

Some minutes later, we went down and went to see another charming site: the pier from where fishing and private boats leave and where visitors may get on board to visit some sandy beaches in the vicinity.
We listened to Cristian speaking proudly about this nook in his beloved town. "Lake Verde is the greatest natural attraction in this commune and the steep hillsides dwelled by coihue trees provide a matchless frame". And he added: "Very near the town, on the lake shore, there starts a stretch of the Chilean Trail which goes from Lago Verde to Tapera.

It may be covered on horseback, by bike or on foot and it lets adventurers get deep into native forests and adjoining communes using and old cattle driver track".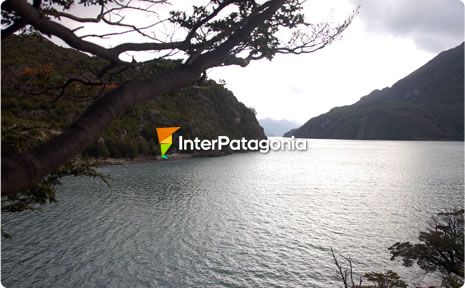 "A guide or a specialized local will help visitors get a better understanding of the natural and cultural heritage of the Palena-Queulat Basin."

We were impressed by the effort represented by the 63-kilometer-long trail and the fact that adventurers must spend the night somewhere on the way. But the outings are organized according to the possibilities of every tourist. They are meant to be enjoyed and not to break a record.

Waiting for the Fishing Season

As the fishing season was a few days away, we could not satisfy our will to get our fly-fishing-rod ready for some casting. But our local friends assured that very good specimens are caught, both salmon and trout.

The day came to an end and we were still there, on the beach, enjoying the warm sun beams at sunset. We had all enjoyed the lake very much and the freshness of sunset invited us to start our way back home.

A fishing license is necessary.
Chilean Trail: ask for a specialized guide.

Municipalidad Lago Verde
Cacique Blanco 131 (5960000) Lago Verde - XI Región - Chile
Tel: +56 67 221-1871

Cristian Solís - Guía de Trekking
(5960000) Lago Verde - XI Región - Chile
Tel: +56 67 221-1871






Low-difficulty trails on the beach.