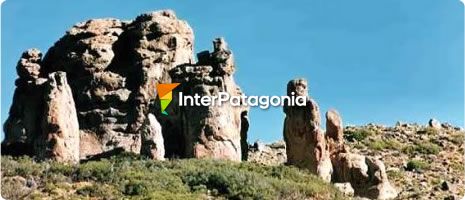 It is important to know that this is a demanding tour and that the first stretch may be covered on a vehicle. Afterwards, the hike across unforgettable aromas and woodlands begins.
In order to reach Mount Zeballos, visitors must travel along the highest road in the Province of Santa Cruz. The circuit and its panoramic viewpoints are worthwhile the effort. After making sure that everything we needed had been loaded on our guide's 4WD, we got ready to set out. The scene surprised us at every kilometer. We left the steppe behind, got passed Lake Buenos Aires and its vantage points as well as the Jeinemeni River. Little by little, we got deep into a mountain path across private fields, opening and closing gates. In the distance, the mountainous skyline separated us from Chile, whose rocks were eroded by the strong winds. The colorful stones gave evidence of the volcanic activity that took place thousands of years ago. As we reached the 30th kilometer marker, we parked the truck and took our backpacks. We checked that all the straps and elements were fine and obeyed the order of starting walking. To our feet, the deep canyon of the Jeinemeni River, with turquoise and reddish walls marked the course of the river. Every step, every scene, every important stop had a comment from our guide so that we would become familiar with the environment. Mount Zeballos is unmistakable. It is 2,748 meters high and admired from a distance, like a lighthouse in the huge mountain, which must be accessed by means of our own effort. Its name pays tribute to the founder of
Instituto Geográfico Argentino
(Argentine Geographic Institute): Estanislao Zeballos. We breathed in the aromas of the hillsides of Andean Patagonian forests, always going up amidst
ñires
and
lengas
that protected us from the strong midday sun. On the road, a strange formation caught our eye. We approached it and got the following information: "According to a well-known geologist, this is a basaltic dam eroded about 65 million years ago, when the Andes Mountain Range was formed and the area was a volcanic boiler". We spent the night at a splendid spot sheltered from the wind. Dinner, fire, songs and much tiredness made us ready for a good rest in our tents until the following morning. When the day broke, we realized we could not continue with our expedition due inconvenient weather, a typical feature in southern Argentina. We kept the sensations from the previos day: getting deep into the mountain, living under the infinite sky that covers Patagonia and challenging the very forces that pushed us to imagine our next journey to try this exploit again.