| | | |
| --- | --- | --- |
| Estimated reading time: 6 min. | Marcelo Sola | Marcelo Sola |
11:35 a.m.: We started to go along the Espina de pescado (fish bone) path, at 1,200 mosl, and were getting considerably high. We were on a glacier moraine. Our pace was slow, steady and confident. Behind us, the perspective was getting bigger every minute. Amazement and beholding took control of time. We did not forget to hydrate ourselves.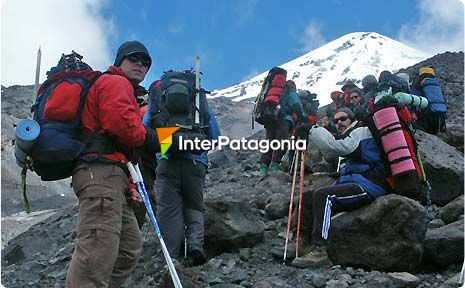 01:00 p.m.: After midday, we resolved to have lunch. The guide had prepared a light lunchbox, to be easily digested and with a rapid assimilation of protein and calories, as we had to continue our march in brief. Our guide and his assistant were always kind enough to ask us how we were going and if we were in any way disturbed. The group was consolidating and fascinated by the sight the Lanín would offer. At a distance, the crystal-clear waters of Lake Tromen gave evidence of the height we had reached already.

01:20 p.m.: We continued with the climbing. In this area, the land was getting steeper. Therefore, the periods of marching were shorter and the stops were longer to eliminate fatigue from our bodies.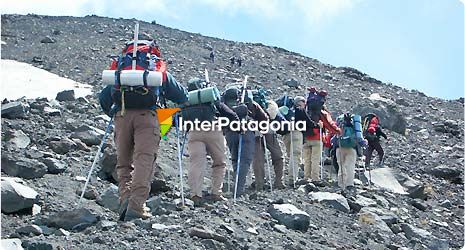 01:40 p.m.: Our guide resolved to take the direct route to the hut appointed by the forest ranger. We noticed the paths known as Camino de mulas and La canaleta. As the degree of hardship of path we were going along was medium, we had to pay attention to every move we made. Always steadily, we continued our way up.
03:20 p.m.: A new adjustment stop. Our lower limbs were getting more and more tired and the weight of our backpacks started to grow heavier. Thus, our way of walking changed alongside with our gravity center, which, together with the slope, forced muscle groups we ocassionaly used to be set to work. We remembered to hydrate ourselves at every instant and we consumed candies and energy bars between stops to elevate the levels of glucose. The panorama was hard to put into words. Apart from Lake Tromen, a mountain known as Colmillo del Diablo (devil's fang) came into scene.
04:00 p.m.: We distinguished our hut, the R.I.M. 46 -Refugio de Infantería de Montaña- (Mountain Infantry Hut) located 2,450 mosl. The eagerness to get there was getting more and more intense. After a short break, we continued walking.
04:30 p.m.: Once in the hut, we changed our perspired clothes and loosened or changed our shoes. The guide explained that the "toilet" was at about 50 m from the R.I.M.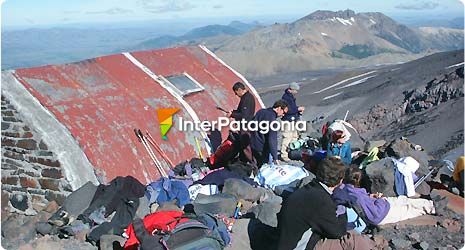 We conditioned the place occupying only the necessary spaces. It was advisable to dedicate some time to elongation. Stretching the muscles we have used during the journey is good exercise not to feel pain or discomfort the following day. We arranged the sleeping bags and selected the climbing equipment we would be using the following day.
06:00 p.m.: Once settled, our guide started to melt snow to prepare water and start cooking. We started to cooperate with this task very willingly, while other people dedicated to prepare a snack to crown that moment. After a hot drink –instantaneous soup, tea or coffee– we had a brief rest while we watched what the mountain guide and his assistant were doing.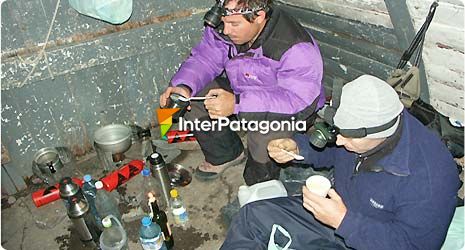 07:00 p.m.: It started to get dark. The orange dusk augured similar weather conditions for the following day. We were glad to watch the unforgettable panoramic view frozen before our eyes for good. The shadow of the volcano let us see its magnificent sillouette, which looked even larger from the heights.
08:30 p.m.: After a short instructive chat about how to use the technical equipment (crampons and ice axes), we got ready for dinner. As expected, the meal was based on carbohidrates – ravioli with mushroom sauce. A good dinner is important to provide energy and "feed adventure spirit"– said the guide.
09:15 p.m.: We left the torches at hand and made ourselves comfortable in our sleeping bags. Tranquility reigned. Silence was only interrupted by the wind hitting the mountain hut roof. All of us slept until dawn.

Ascenso Lanín
(8370) San Martín de los Andes - Neuquén - Argentina
Tel: +54 2972 41-1584 Cel: 9 294-4637868

Ezio Mucelli
Villegas 313 (8370) San Martín de los Andes - Neuquén - Argentina
Tel: +54 2972 42-8506 Cel: 9 294 4308942
















The symmetry and beauty of the Lanín Volcano summon both amateurs and experts.
Its contradictions play games with those who wish to climb the steep slopes of rock and snow. Its benevolent aspect incites overconfidence in the less experienced mountaineers, as its 2,600-meter elevation gain emphasizes prudence to the more experienced climbers.
Technically easy, the volcano holds unforeseen dangers for those who underestimate it. Nature can have a 'split personality', and this should be remembered at all times.
The volcano has risen over the Andes Mountain Range for thousands of years and will stand there for thousands more. Climbers know that the summit can always wait, and that what does not unfold naturally should not be forced. If the expedition fails and the summit is not achieved, there will be another chance.
But the chance for success can always be improved. Proper training, complete information, and equipment suited to the undertaking are essential. Those who do not have previous experience or who want someone else to take care of the logistics of spending two or three days in the mountain should hire a certified guide.
An unforgettable experience, climbing the Lanín is within everybody's reach, from 10-year-olds to 70-year-olds. At 3,776 meters above sea level, the air is more pure, the sun shines brighter and the view is incredible.
Correct preparation is the key, and motivation is the vehicle that will lead us to the highest summit in all Patagonia.
A dream come true.
Erik Sweet
A.A.G.M. Mountain guide