Paragliding at Mount Piltriquitrón
As if we were birds, we soared around El Bolsón amongst mountains and breathtaking valleys. We will never forget the feeling of floating through the air...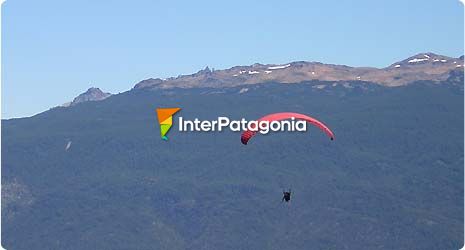 El Bolsón is an incredible place for this sport which may be practiced without previous experience and offers a particular mixture of adrenaline and quietness.
Who can resist the temptation of gazing at the beauties of nature from the sky? I think nobody. Therefore, I thought that a paragliding flight with experts would be a great idea to delight my eyes with these wild beauties. This would be a different way to visit those nooks accessible only by a bird's flight.
I have recently read a phrase by Leonardo Da Vinci: "Once you have tasted flight, you will forever walk the earth with your eyes skyward, because you have been there and you will always long to return". "It is like being suspended in the air", I had also heard once. "An indescribable sensation of peace mingled with freedom", others said.
These comments encouraged me to live this experience. I made contact with Ricardo Miloro, a well-known paraglider of the region. Mount Piltriquitrón, whose 2,260 meters above sea level shelters the town, was our meeting point. The take-off site was 1,150 meters above sea level. As I was anxious, Ricardo cheered me up. He told me that the word "Piltriquitrón" meant "hill hanging from the clouds" in the Mapuche tongue and this was exactly what we were going to do: to be suspended up in the air as if we were playing with the wind.
Paragliding is considered to be an adventure sport and is carried out with dual controls in charge of an expert instructor. In this case, Ricardo Miloro knows plenty of paragliding spots in the Provinces of Córdoba, Mendoza, Tucumán, La Rioja; however, it is
El Bolsón
the place he usually chooses to enjoy his flights.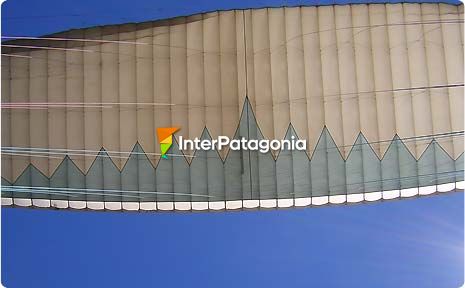 "Here thermals often prevail after midday and a constant wind from the same quadrant makes flights easier as if we were flying by heart", said the adventurous paraglider.
Let's fly
Then, on a spot free from weeds, we unfurled the wing, prepared the seat, the helmet and, finally, the flight suit. This clothing and accessories are essential for a good flight and even a better landing. The instructor is the lord and master of every maneuver and the inexperience paraglider can but show obedience.
As Ricardo finished assembling the paragliding equipment, we stared at the valley from the height. The perspective made us feel infinite silence and life below us seemed to calm down. When the breeze was favorable, he instructed me to begin running forward in order that the wind filled up the sail and we could gain height.
Regardless of our vertigo, we sat on the seat and in a few seconds we were flying. From then on, everything was really fun. We turned around several times in rising thermals and we could appreciate Lakes Puelo, Epuyén and Mounts Tronador, Lindo and Perito Moreno, as well as the Andean Mountain range in the background.
Looking down, we found out a tiny city and vehicles looked like toy cars. Everything was even more highlighted. Ricardo told me that the dark green seen from above was the color of El Hoyo, Buenos Aires Chico neighborhood and the one-thousand-year-old poplar trees of the Lake Puelo.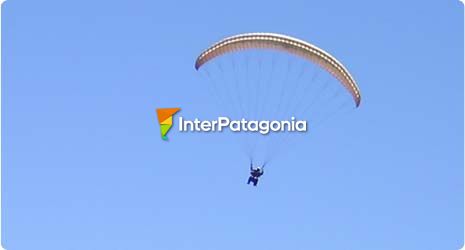 The paragliding flight carried us to the huge valley as a smooth breeze hit our faces. A big smile on my face showed the pleasure I felt at that moment and I told myself that everyone should taste this experience of living, feeling and being the one and only star.
Soaring up in the air, I did not stop taking pictures once and once again until Ricardo told us that we had to go down. We felt the gradual lost of height and heard the silence blended with the gentle murmur of the city until our feet finally touched the ground.
My face showed the happiness of this experience. I was excited and as I was up in the sky I felt a combination of peace, freedom, vertigo, adrenaline and other sensations hard to put into words because they emerge from the soul.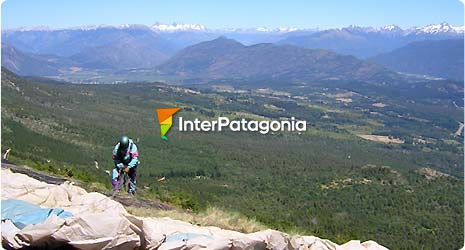 Tour Kind: Paragliding.
Level of Difficulty: Medium.
Duration: 20-minute flight.
Timetables: Flights start at midday and end at about 6.00 p.m.
It is neither advisable for unhealthy people older than 60 years old nor overweight people or with some heart disease.
Trainers and comfortable clothes are recommended. Sunglasses and sun protection are mandatory.