Languedoc and Their Music in the Forest
Languedoc, made up by musicians who feel passion for Medieval and Renaissance art, present night shows with unique features.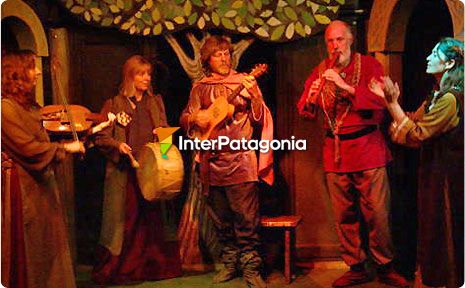 On a small stage standing among the elves of the forest of Mount Piltriquitrón, troubadours and minstrels offer their poetry, dancing and music, played with ancient instruments.
Languedoc has a magical shelter in a nook inside the forest of Mount Piltriquitrón. They rehearse and play their music in a special concert room for whoever wishes to be part of a sober and subtle musical audition in which medieval tones prevail.
Their members are Marcelo García Morillo, Adriana Ottone, Viviana Russo, María Santucho, Andi Grimsditch, Matías Riquelme and Meli Araujo. They have played together since 1994 and they share their taste to the study and play ancient music. With their original instruments and songs written in Romance languages, they have recreated the spirit of the Middle Ages and succeeded in introducing their visitors to this environment.
During their shows, they include the reading of ancient manuscripts iconography and the costumes of the performers are reminiscent of the Middle Ages, which generates an atmosphere in which nothing is done at random.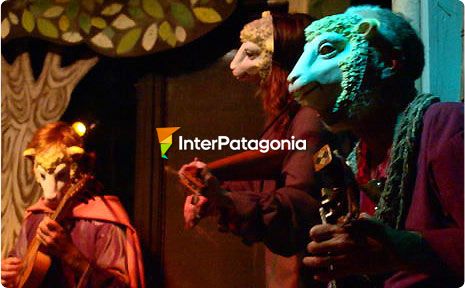 Everything started with the research carried out during 25 years by Marcelo García Morillo, who reconstructed the musical history of the twelfth and thirteenth centuries. He settled down his lutherie atelier where he has assembled instruments made of cypress,
lenga
, maple trees,
raulíes
and
maitenes
, following the procedures used in those days.
Thus, saraceno guitars, harps, rebecs, dulcimers, psalteries and lutes have been assembled at his atelier and many of them appear in the catalogs of Early Music Shop in London.
Languedoc has become a unique kind of undertaking that continues to train musicians in the region, in other cultural centers and conservatories with the same energy they have always had.
Their rich plays have been presented in the shire, in
Bariloche
,
Trelew
and
Neuquén
, as well as in cultural TV channels such as Films&Arts and Canal Á. Everything from the singing of troubadours to
Carmina Burana
, every presentation is distinctive and offers the band's original quality and dedication.
An annual presentation is held at
El Bolsón
by Languedoc. It is the result of a year's work. They are an icon of ancient music in Patagonia.
Several of their works have been recorded and some of their productions include: "Sounds from the Middle Ages", "Highway to the Stars", "Carmina Burana" and "Totus Floreo". This work has succeeded in spreading their artistic activities.
At the show called "Under the Holly Oak" they presented a tribute to such tree as the representative of the forest, with a message of care and protection of nature. It includes music from the Middle Ages and the Renaissance, with Norwegian melodies and Spanish romances.
At an outdoor stage and inspired by the aroma of the ash trees, oaks and holly oaks, Marcelo expressed: "as the director of Languedoc, I feel proud to lead this homage to the tree and as a
luthier
, eternally grateful to these wonderful beings that sound today and tell us their story through the instruments I make".
It is not necessary to be able to read music or to know much about the Middle Ages in order to visit them, take part in their concerts and be thrilled by their careful interpretations within a green space. The perfume of the forest will compensate for anything we lack.
Tour Kind: contemplative.
Duration: 1 hour.