Horseback Ride along the Azul River
The Azul River ("Blue River") runs surrounded by a giant rocky wall. As we climbed up the mountain on horseback in search of a murmuring sound, we admired a stunning landscape.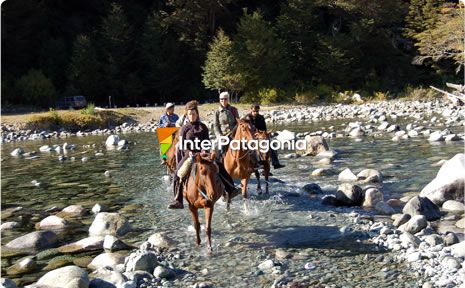 Among the attractive outings in El Bolsón, a horseback ride to the Cajón del Azul will undoubtedly surprise visitors with the natural wonders this journey can offer.
In autumn we traveled to
El Bolsón
and we were invited to go on a horseback ride through the forest and mountains which would led to
Cajón del Azul
. We decided to spend a whole day of our vacations to enjoy this experience.
We joined a group of Spanish tourists, who were as excited as we were, and set off from the downtown on a van owned by the tourist company "Grado 42". We headed towards the spot named Mallín Ahogado ("Drowned Marshland"), 15 kilometers from El Bolsón.
At Callejón Warton, where the Warton family farm is located, we left the vehicle to start our horseback ride. Camilo, our guide, and was saddling up the horses for the outing when we met him. Without haste, he assigned one well-equipped horse to each rider so that all of us could feel as comfortable as possible with the saddle.
Once on our horses and ready to set out, we leisurely moved forward as we adjusted our body to the horse's movement, which was somewhat awkward at first. The group was eager to plunge into the natural reserve of the Azul River on their
zainos
horses.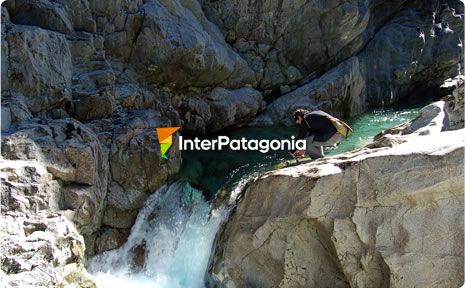 On our way, Camilo talked about the trail and pointed out some features of this protected area. The dense cypress and
coihue
trees forest was surrounded by creeks and was home to a variety of birds and fauna species.
Enjoying the Ride
Suddenly, we found ourselves in the middle of a cloud of dust on a very dry trail resulting from the scarcity of rainfalls. The heat accompanied us through the trail along the Azul River. However, we came across some trees which provided us with shade.
We waded the Azul River. Despite its name, which stands for "blue" in Spanish, it featured a green emerald color and it was so crystal-clear that we could see every stone on its bottom. In some big pools, about five meters deep, we could also see some trout smoothly wiggling their fins.
Once again in the hillside forest above 700 meters of height, tall
coihue
trees protected us with their shade. We were walking on a wide trail in a private property subject to a right of way and the refuge was closer.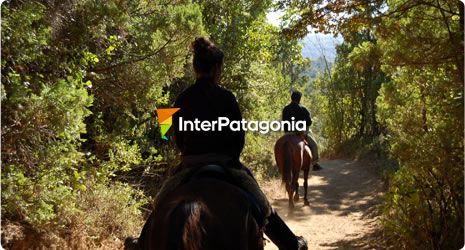 We waved at some dwellers that lived in the farms next to the river and, some steps ahead, we reached a wild campsite called "La Playita" (the Small Beach). We happily got off the horses, ready to prepare our scheduled picnic.
Lying on our backs on the grass, we enjoyed a unique landscape. We would have stayed in this position a little bit longer, but Camilo convinced us to go on along the river gorge. It was a steep trail and we arrived at a giant rocky wall which enclosed the river bed.
Along our journey, we discovered waterfalls and big pools. The strength of the water ran among the rocks and created pools. The trails led us to different sections of the river until we arrived at a wooden bridge where we played with the vertigo we felt as the water passed underneath us.
Later on, we headed forward up to another refuge: the gorge's refuge itself. There, we met an interesting character,
don
Atilio Csik, who delighted us with typical stories he is used to sharing with every guest who visits his place.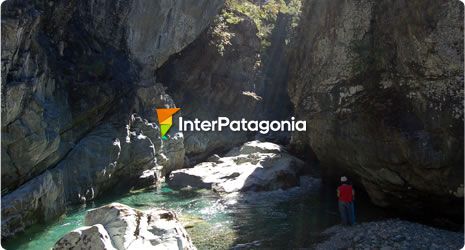 We had found the famous
Cajón del Azul
(the Azul River Gorge), our final destination. Our desire to stay there longer and the fact that we were very tired made us stop and rest.
Then, we went back to our horses and started our way back. Camilo was right: the murmur of the river had come deep into our hearts and we felt really happy for having spent this whole day tour.
Tour Kind: Contemplative - Horseback tour
Level of Difficulty: Intermediate
Duration: The tour takes approximately 8 hours.
It is a 22 kilometer-tour up to the mountain refuge, where it is possible to stay overnight or just spend the day. This place provides showers, toilets, fire pits and kitchen to satisfy guests' needs.