| | |
| --- | --- |
| Estimated reading time: 3 min. | Karina Jozami Karina Jozami - Foto 1: Roberto Rodriguez |
Patagonian cypresses are the main attraction of this must tour. The bodies of water reflecting the clear skies in Patagonia complete the scenery.
The tour around the "Parallel 42 Andean Shire" cannot miss a visit to Los Alerces National Park –whose name stands for Patagonian cypress in Spanish-, a wild area with natural attractions where the largest Patagonian cypress forest in Argentina is specially protected. This park, created in 1937, is situated in the Northwest of the Province of Chubut up to the Chilean border.

We set out very early in the morning from El Bolsón along National Route 258 towards the City of Esquel. The first town we went past was El Hoyo. Then we found a fork in the road and we headed towards Epuyén, on the mountain range.

This tour allowed us to discover different environments typical of the region like the yellow Patagonian steppe with semi-arid vegetation between the areas known as Leleque and Cholila. Besides, Lake Pellegrini delighted our eyes with its blue-green body of water.

The following spot was Cholila, which means "beautiful valley" in the Mapuche tongue. This is a tiny and picturesque town with cattle-raising traditions and some stories of the North American bandits named Butch Cassidy and Sundance Kid, who lived there for some time.

Along the same route, we arrived at Villa Lago Rivadavia, popular for its incredible fly-fishing conditions. At that point, we were just 4 kilometers from the national park entrance and it was already a feast for the eyes which made us forget the long journey we had had.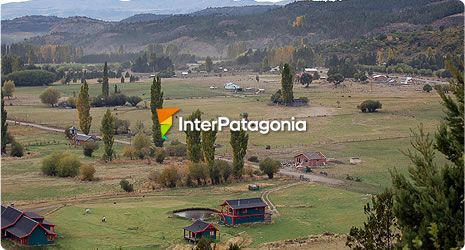 We came into the park and saw the Mount Coronado, named after the first dwellers of the region. At its base, Lake Rivadavia provided us a place to take a rest, where silence was only broken by the chirping of birds.

An Ideal Place to Daydream

With a map in our hands, we learned that Lake Rivadavia is part of a lake system including two large eco-regions constantly protected by the national park: the Patagonian forests and the High Andes. This lake system is made up by Lakes Menéndez, Futalaufquen, Krüger and the Frey River, which carries its water to the hydroelectric power station known as Futaleufú (Amutui Quimey Reservoir).

Later on, we reached a beautiful campsite on the shoreline, which we thought would be a fine place for our magic camping tent vacations.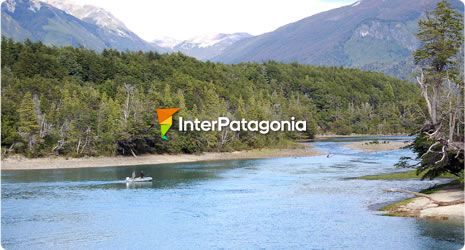 Afterwards, we went past Solís Bay and deep into a thick coihue tree forest. There, the river joins Lake Verde, which interconnects with Lake Menéndez through the Arrayanes River. A footbridge allowed us to head towards Port Chucao and offered a panoramic view of these two bodies of water, the wood and the mountains. Pictures, pictures and more pictures were taken at this astounding spot.

To get to Lake Menéndez, we went along a trail with excellent interpretative signposts that described the vegetation and animal life in this park. Once at the pier, we waited for a while to get on board a watercraft and set sail towards the ancient Patagonian cypress forest. As we waited, we stared at the incredible view of Mount Torrecillas and the glacier on its top.

To the Ancient Forest

Surrounded by this breathtaking scenery, we could realize how big these old trees really were and understand the lahuán or Patagonian cypress tree worship, a sacred tree for the indigenous natives of this area. They can reach 70 meters of height and can live 3,000 years.

Unfortunately, indiscriminate logging reduced the number of trees dramatically some years ago. The wood is red, hard and very resistant, which is highly valuable for woodworks. This species lives together with Chilean cedar, coihue and mañiues trees. Among flowers in this area, we can mention mutisia, chilco and liuto.

This tour is guided and allows visitors to learn also about animals, which cannot be seen because they fear people. This park covers an area of 263,000 hectares: some are open to visitors and the unspoiled ones can be visited only by park rangers.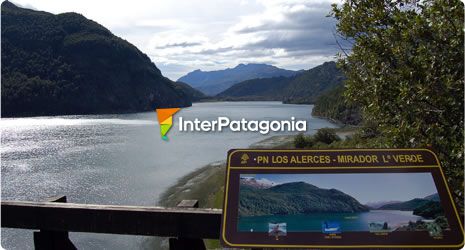 We left the Patagonian cypress forest behind and bordered the northern branch of Lake Futalaufquen until we reached Villa Futalaufquen. This small town provides all the services, including lodging and tea houses, necessary for those guests who want to spend unforgettable days.

We left the national park entrance, considered to be the entrance to the City of Esquel.
| | | |
| --- | --- | --- |
| | From El Bolsón, follow National Route 258 southwards, go past the town of Epuyén 8 km and take Provincial Route 71 towards Cholila. Then, once Cholila and Villa Lago Rivadavia are left behind, the northern entrance of the park is reached and this road crosses the park from North to South. | |
| | | |
| --- | --- | --- |
| | Staying on campsites or Villa Futalafquen lodgings to spend a few days and visit this magnificent park is highly recommended. | |

Intendencia del P. Nacional Los Alerces
Villa Futalaufquen (9200) Esquel - Chubut - Argentina
Tel: +54 2945 47-1015 /1020 int. 23 - informes












Researchers found evidence of the first human groups that dwelled the area over 3,000 years ago. They had settled down in the Valley of the Desaguadero River. They would live on hunting and fruit collection taking advantage of the resources provided by the lake and forest environments.
Their descendants, the Tehuelches and Araucanos, populated the region some time later and left cave paintings that give testimony of their cultural legacy.