The surroundings of Caviahue feature lagoons and cascades of singular beauty. Spread out in the four directions, they are perfect destinations to visit and spend one day with the family while being surprised by the wonders around.
Lengas, ñires and climbing plants join the monkey-puzzle tree forests to make up this scenery where the moisture of the cascades and lagoons makes everything fertile around us. We are hiking towards the lagoons and cascades in the surroundings of Caviahue.

Doing this kind of tour whether on foot or horseback is possible at any time in the summer, though most hikers prefer to set out early so as not to need to hurry and to set up a picnic at some clearing in the woodland.

In the winter, instead, the same circuits are enjoyed with snowshoes, skis or even snowmobiles. There are tours that reach the very Copahue Volcano and let adventurers see the monkey-puzzle trees, the valleys and the mountains that separate these two beautiful cities.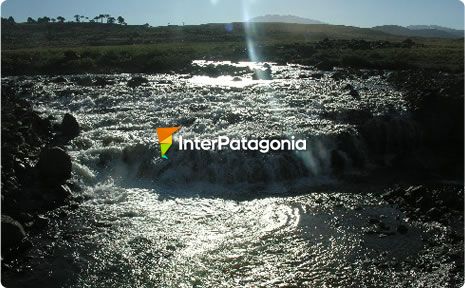 The local Tourist Office gave us information about the existence of dozens of lagoons and cascades scattered in the outskirts of this attractive city. And after having a look at the map where most of them are represented, we resolved to visit some of the closest to our hotel.

They may be accessed on foot as they lie just a couple of kilometers away. Most of these water bodies may be reached by vehicle until the roads end. Then, it is necessary to start walking, though the difficulty is not high.

We chose to get to a cascade named Escondida -which stands for "hidden" in Spanish- and to the lagoon bearing the same name. Both are ideal for those visitors who are not keen on long walks.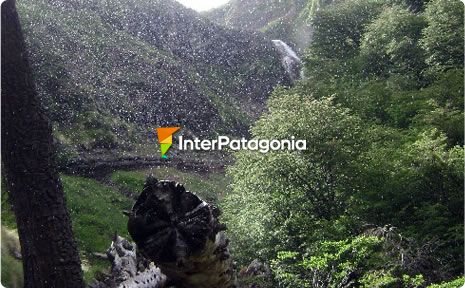 Escondida Cascade turned out to be a turning point in our tour as, after having improvised a picnic for lunch and taken several pictures this place certainly deserved, part of the group decided to go onto La Escondida Lagoon, whereas others chose to go back to town.

We advanced along with our partner Eduardo to the top of the hill that features a majestic panoramic sight of the local geography.

The Copahue Volcano is present throughout the entire tour, but the great protagonist is the hidden lagoon named Escondida. As soon as we made it out, our eyes stopped at its quiet crystal-clear waters.
The nearby valleys are observed from the heights along with a dozen creeks and the Agrio River in the distance. All of them empty into the mirror of Lake Caviahue.
| | | |
| --- | --- | --- |
| | In addition to the circuit made up by Escondida Cascade and Lagoon, visitors may be dazzled by other geographical features of similar beauty, such as the Agrio cascades, the Agrio Waterfall and Hualcupén Lagoon, whose access road is indescribable indeed. It goes through the Mapuche communities of this gracious region. | |