| | |
| --- | --- |
| Estimated reading time: 3 min. | Mónica Pons Jorge González |
The impetuous wind and water have hit the rock and carved traces on their skin. Veining with unimaginable hues emerge from their loins.
Not far from its shore, Lake General Carrera treasures the Chapels of Marble. These rocky promontories offer an adventure second to none. They may not be seen from solid ground and there is no way to reach them other than by water led by local experts.

We left Coyhaique heading south up to Puerto Ingeniero Ibáñez. Once there, we crossed the lake on board a barge and landed at Chile Chico. We followed the zigzagging road to Puerto Río Tranquilo. It featured many slopes and little traffic through picturesque villages. Several sailors offered to take us to our destination on their small motorboats at the wharf.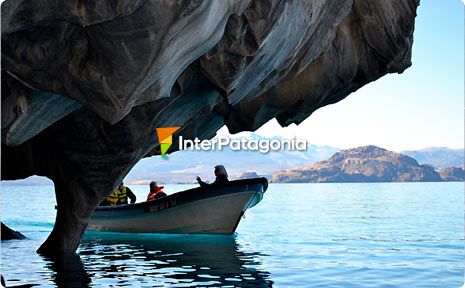 We covered that distance on a motorboat. It was a short ride. We had been told this was a Sanctuary of Nature made up by several islets whose shape has inspired several names: Cathedral, Chapel and Cavern of Marble. Made of limestone, the wind and the water have shaped their structure unveiling the different layers of marble and the various hues of their components: calcium, quartz and limonite.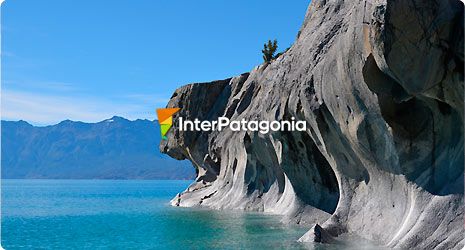 First, we saw the formation resembled a chapel from the outside. It also resembled a dog's head and a cathedral cut out on the skyline. Feeling quite thrilled, we got our cameras ready and resolved to enter and see it all with our own eyes.

As we entered, it was all covered by different shades of iridescent turquoise and the water was reflected on the marble walls. The gray, pink and white were having a competition and invaded our bodies and clothes. It was a phantasmagorical picture. We touched the rugged Surface of the galleries to feel it was real. The openings through which we had entered the formation were lined by dim light.
We crossed from one area to the next through both wide and narrow corridors. They were all different and we had the feeling that the temperature was lower inside. Several kayakers were reaching this point as the Chapels are visited while there is daylight.
Back on solid ground, we were still savoring the sensations experienced in the grotto. The most outstanding artist had failed to create such a delicate piece of art. We thanked Mother Nature for her patient and exquisite work.
| | | |
| --- | --- | --- |
| | There are two ways to reach Puerto Río Tranquilo from Coyhaique. The former consists in reaching Puerto Ingeniero Ibáñez (118 kilometers), crossing Lake Carreras on a barge that gets to Chile Chico after navigating for two hours. After that, we should continue driving up to Puerto Tranquilo (166 kilometers). The second option is to leave Coyhaique following the Southern Road. Travel 225 kilometers, paved only up to Cerro Castillo. The rest is a gravel road. | |
| | | |
| --- | --- | --- |
| | daily outings until 6pm during the season. | |

Wear warm clothes and carry a camera.
Puerto Río Tranquilo offers accommodation options and restaurants.

Pedro Contreras
Carretera Austral Km. 220 Bahía Mansa (6050000) Chile Chico / Lago G. Carrera - XI Región - Chile
Tel: +56 67 225-8168 Fax: +56 67 241-1500









"It is 4 years since I have been assisting my dad (Pedro) to organize the excursions to the chapels. I have spent hours going around them with photographers and tourists. However, I am still amazed to find new shapes. They are in constant change, due to the water or the sunshine percolating through their holes. They are never the same. And that is fantastic."
Johnny Contreras
guide