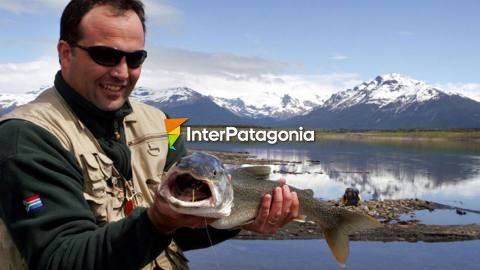 Fly-fishing in Lake Roca and the Rico River is a dazzling experience. Large rainbow trout offer intense resistance in the transparent waters of the glacier.
At El Calafate, lovers of sport fishing have the opportunity of enjoying an intense day holding hands with the people from Calafate Fishing, who provide everything necessary to enjoy the experience.
Once they have arranged the time of departure, the fishing guides pick up anglers at their hotel. They will all climb into 4x4 vehicles towards their destination.
After traveling along sixty kilometers from the center of the city, visitors will reach the estancias located in the surroundings of the Perito Moreno Glacier, one of the most beautiful spots in the area with an impressive flora and fauna.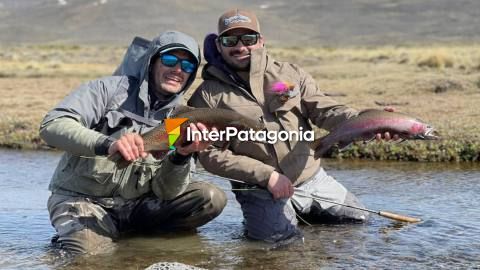 The guides from this agency have broad experience in the area and in this activity in particular. Miguel Angel Almandoz, who is in charge of Calafate Fishing and is a fishing guide in the Los Glaciares National Park, will guide you to the fishing spots and tell you anecdotes about the southern estancias, as well as contributing with his vast knowledge about these places.
As the equipment is getting prepared, Néstor –another guide from Calafate Fishing– prepares an exquisite breakfast, which provides all necessary energy to spend the morning fishing intensely.
Afterwards, they devote themselves to searching for the best spots, watching carefully where the fish will bite more. The area visited corresponds to Lake Roca and the Rico River. There is good fishing from the calving area of the Perito Moreno Glacier, where one-kilogram specimens are fished, with the possibility of catching some lake four-kilogram trout.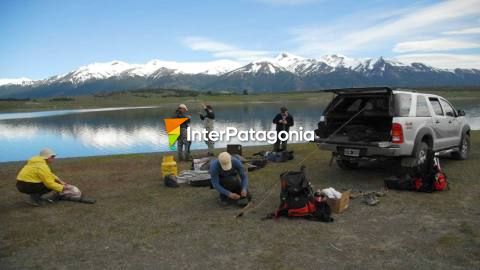 The fishing regulations provide that only one rainbow specimen may be caught per angler and there are no limits for lake trout.
Fly-fishing in the vicinity of the glacier hides a special magic. The deep silence is sporadically interrupted by the echo generated by the calving of the glacier walls located in the distance. The intense sunbeams plot multiple reflections over the crystal-clear waters, which are triggered out in all directions when the fly softly touches the water. At noon, as the angler keeps searching for the "fish of the day", the guides start cooking a nourishing lunch, made with bifes de chorizo cooked in the cast-iron grill with salad and red wine,whichever drink the entertained person desires. If the angler agrees, a trout fished by them may be cooked and eaten by the river.
After lunch and once the funny anecdotes told by the guides are over, fishing continues until seven in the afternoon in the various bays located inside the estancia.

The unique experience of being part of this activity in full contact with Mother Nature, watching some floating traces of the ancient glacier is more than satisfactory for the visitor.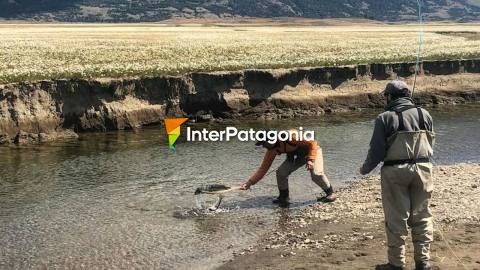 Other destinations in the surroundings of El Calafate are Lake Argentino, the Bote River and the Santa Cruz River, to name a few.