Contact
Hielo y Aventura
Av. del Libertador 935 (9405) El Calafate, Santa Cruz, Argentina
Tel: +54 2902-492205
Useful Data
Level of Difficulty: high
Duration: from 9am to 6pm approximately
Recommendations: Mini-Hiking Tour:Limitations: due to the degree of effort and difficulty implied by this tour, it is only suitable for people between 10 and 65. Big Ice:Restrictions: due to the strong physical demand and soil difficulties, this tour is only suitable for people between 18 and 50 who are physically fit, considering the hike will take 7 hours across ice and forest. To Take into Account:People with overweight problems should NOT take part in this tour. For such purpose, the following parameters should be considered as NOT SUITABLE: weight in kg surpassing twice their height in cm less 100 (for example: a person who is 1.70m: 170 minus 100 = 70 x 2 = 140); pregnant women; people with any degree or kind of physical or mental disability that might affect their attention, pace and/or coordination; people with central or peripheral heart failure, reduced heart or vascular capacities, or people carrying stents, pacemakers or other kinds of prosthesis; people under anticoagulant treatment, degree III varicose veins -evidenced as thick and multiple-, heart arrhythmia; people suffering from breathing disorders such as EPOC, asthma, emphysema, etc.
You may be interested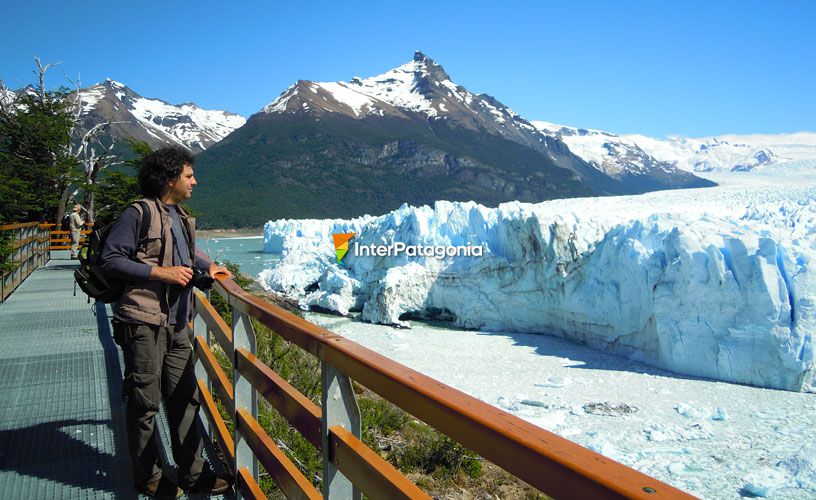 The Perito Moreno glacier from the footbridges
The footbridge area allows visitors to admire the front of the Perito Moreno Glacier and witness the fall of ice blocks from a close distance. At only 30km from the entrance to Los Glaciares National Park.