A few minutes away from El Chaltén there lies a singular attraction that lets visitors come close to a fall of fresh water. It is perfect for those who are not keen on hiking.
We left El Chaltén by car and got to the end of the town, where we took a detour to the right at a sign showing directions to the famous Lago del Desierto (Lake of the Desert). We reached this destination after traveling approximately 37 kilometers.

The road is really wonderful and it features various panoramic views of the De las Vueltas River up to its source, where its waters meet the famous lake.
One just needs to travel 4 kilometers to come face to face with a site that has a beauty of its own and is worth a stop to see it. Named El Chorrillo Fall, the river that comes down the snow-capped mountains runs between steep walls at this location up to the point where it falls into a significant depression thus giving origin to a singular waterfall that may be accessed on foot.
The signs read that parking is allowed. Dozens of cars remain waiting for their passengers who in a matter of minutes become hikers and take the trail that leads to the fall.

There are daisies and wild flowers to both sides of the path, a perfect scene for people who are not used to walking and want to do it at a slow pace. The hike takes one hour to the fall and back, but the waterfall features so many images and so many points of view too that the tour generally takes a little longer.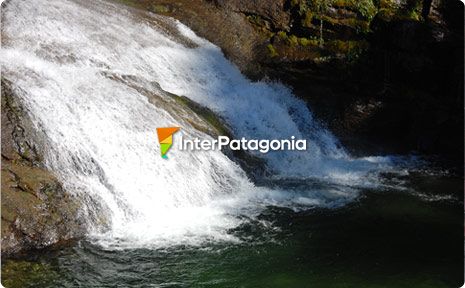 Our idea was to get beneath the fall. We followed the trail that led to the thick forest made up by various tree species and the typical local plants.

With a very low degree of difficulty, we made our way through and it was remarkable to notice how the moist of the fall, and the fresh sensation on our skin, took hold of our bodies.

It was more than pleasant and even better when we could spot this beautiful cascade. We appreciated the river jumping into the abyss and boasting the immensity of its volume that fell to give shape to a gorgeous lake.
Ideal to rest, swim or just look at it, this waterfall becomes a special and particular protagonist. Beyond the fact that there are other trails that turn out to be more significant for hikers, El Chorrillo Fall still is worth a visit.