| | |
| --- | --- |
| Estimated reading time: 3 min. | Mónica Pons InterPatagonia.com |
The hills, water bodies and different kinds of soil in the valleys and cliffs of Río Negro provide the perfect scene for recreational activities.
In the past few years, the region known as Alto Valle has been part of the booming sports activities in vogue. At General Roca, it is possible to enjoy a wide array of outdoor sports according to the abilities, training and ages of those who like to move their bodies.

Hiking is the natural exercise par excellence. This region has well-signed-posted trails for beginners or experts. Tours of this kind open up the mind and make the lungs feel that refreshing effect necessary to maintain good health. In the meantime, hikers may be delighted by the scenery and perceive the aroma of the trees.

Another option is to go cycling, whether along the same trails or more challenging dirt roads that show off the sedimentary origins of the cliffs. The slopes feature diverse intensity and guarantee the adrenaline typical of mountain biking.

Not only does riding a mountain bike provide excellent cardiovascular exercises but it also shortens all distances. There are programmed circuits that may be combined with short hikes. This is how we reached the river viewpoint, Valle de Luna Roja viewpoint, Tres Cruces Viewpoint and Colorado Gorge. All these natural wonders connected us with the Upper Cretaceous origin of the region and it was even possible to observe a sea shell embedded in a rock.

But that is not all. Other activities such as paragliding and rappelling are usual in the area, along with nautical sports and angling in the varied local water bodies.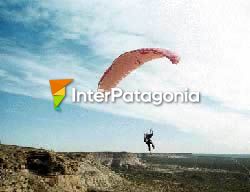 When it comes to paragliding, we could experience the feeling of hovering over the farms, watching their various hues, the work being done between the fruit rows while breathing that fresh clean air typical of the heights. From the air and in the distance, we managed to spot some hawks and vultures that boasted their acrobatic abilities as if in a competition.

Trained people may choose to go on individual outings or to be joined by friends. We preferred to be accompanied by specialists who know the area and all its corners very well; therefore, we headed for a travel agency. Thus, we made sure we would be provided all the necessary elements for each specialty. This made our outings more interesting and even educational.

The support and experience of our guide was a "bonus track" to our expectations, as we succeeded in identifying some birds and interpret signs given by nature. We would never have managed this without his assistance.

"Nature does not ask for much in return: it just needs us to respect life growing in this environment, as every plant, hole in the cliff or water body represents food and shelter for some animal species". Those were the words our guide used to express his own respect for the planet.