| | |
| --- | --- |
| Estimated reading time: 2 min. | Mónica Pons generalroca.gov.ar |
A colorful collection of creative productions is available for those who choose the artisans market in search of non-mass-produced items.
The four sides of San Martín Square are Roca Avenue and San Martín, Mitre and España Streets. That downtown space in General Roca hosts a market where handicrafts lure both locals and visitors.

People wander around the area slowly but constantly every Saturday and Sunday, when the artisans put up their stalls and get ready to welcome visitors. In turn, they expose the most varied and exotic creations, whether made of leather, wool, pottery, metal or acrylic materials.

All through the day, tourists visiting the area look, touch, try on and choose items on display, as it is impossible not to buy something. Homemade jam and beer, paintings and sculptures have a special site next to clothes, footwear and knives.

Everything is for sale and there is a chance to taste some regional dishes. Not only does the Artisans Market represent a strong cultural identity in the region, but it is also an excellent economic activity on which many people and their families depend.

All this is completed with circus shows, especially when allowed by the weather conditions. Magicians, jugglers, clowns and puppets add up their art in some corner of this eye-catching square in Roca. Attendants contribute some gratuities at the end of each performance.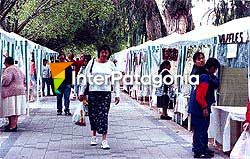 This special site provides entertainment for the entire family. While visiting General Roca on weekdays, many of these artisans may be found at a market located between Mitre and España Streets, where there are also warm Mapuche woven items.

Thus, passion for design and the production of unique pieces joins the tradition of previous generations to produce items of personal adornment such as ear-rings, necklaces and rings, items woven in the loom and with two needles or rustic wool spun by hand.

At the City of General Roca, we felt that this market had been quite a finding.

Municipalidad
Mitre 710 (8332) General Roca - Río Negro - Argentina
Tel: +54 298 43-1400